---
Look:
Kelbyone and CreativeLive are both great for learning photography. As the digital camera market matures, we're seeing more types of content available to us as photographers.
Whether it's taking photos or post-processing them, gaining knowledge from the best in the industry will help you accelerate your growth as a photographer.
Here's what to expect today:
KelbyOne Training reviewed

CreativeLive reviewed

Are they worth it?

Which one's for YOU? (The verdict)
CreativeLive and KelbyOne e-learning platforms have a lot in common but also some differences that may be important to you when deciding what will work best for your needs in terms of cost and course offerings.
Let's dig deeper.
---
KelbyOne Review
---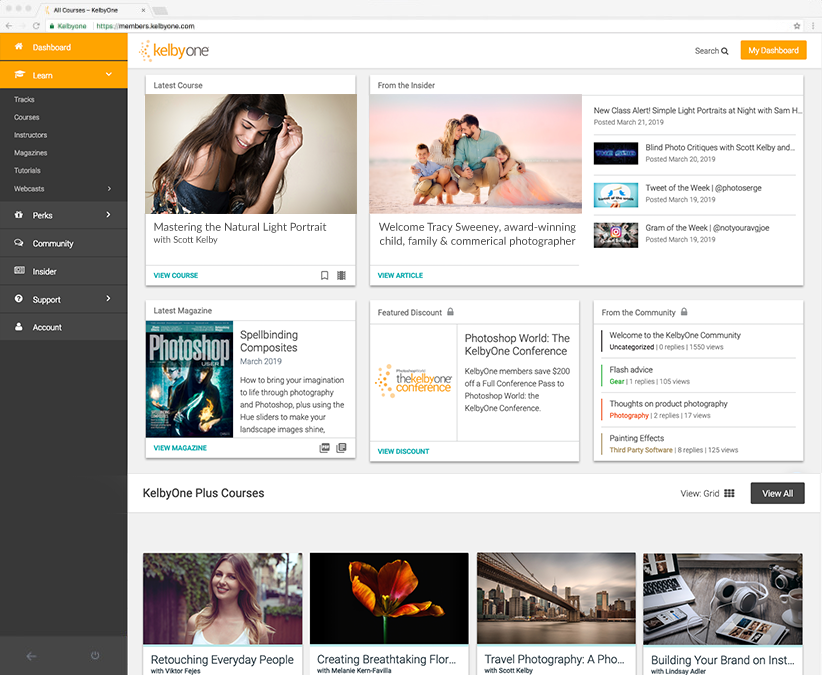 What is KelbyOne?
This site started humbly as a simple computer training platform in 1993.
After a while, the community grew and the founders decided it's time to go bigger. With that in mind, they decided to merge with NAPP, thus creating KelbyOne.
At KO, they believe that learning should never stop, so they are providing members with the newest trends and updates in the photography field.
And if you become a member of the site, you will definitely be in the loop. This is one way of learning new techniques before others do.
---
KelbyOne Membership Plans
KO is a membership-based site. Instead of letting you pay it per course, they offer a monthly or annual subscriptions.
There are three plans to choose from and they are as follows:
KO is offering a free membership program for everyone who would like to be part of their community. You just need to have a valid e-mail address to be able to sign up for the program.
After signing up successfully, you can have access to your own profile with some free classes that you can watch.
You will also have a glimpse of what the paid-members are getting.
You can get advantage of this membership for only $9.99 per month. For this price you get access to over 300 photography courses.
They also offer a 20% discount if you prefer to subscribe on an annual basis.
3. The Pro Plan
This plan requires you to pay up a monthly fee of $19.99 or an annual membership fee of $199 and you get access to the ENTIRE platform and everything it comes with.
FAQ: Is it better to use the membership program than pay per individual lesson?

Actually, it depends. One, if you are planning to take just one specific photography course, then it is really beneficial for you to pay per course.

On the other hand, if you wish to learn several topics side by side, then you will save more by availing of the monthly membership plans.
---
Applications
KelbyOne gives you a variety of options where you can access their content. These apps are compatible to both Android and IOS users. Here is a list:
With this application, you get to have access to all your courses wherever you are. In fact, it even lets you download some lessons for offline viewing.
Sometimes, watching videos on your Smartphones or laptop can be quite restricting. With the KO TV app, you can easily view lessons on your TV (a much bigger screen) without interruption.
This one is a dedicated app for their Photoshop User and Lightroom Magazine issues. You can download them for offline reading as well.
---
Upgrade
The good thing about having several membership options is that you can upgrade or downgrade your subscription whenever you feel like it.
For free users, you can upgrade your plans and access more trainings by simply clicking the "upgrade" tab on your dashboard.
---
Is Kelbyone Worth It?
If you want to be able to learn a lot of different lessons and be in the loop, then KelbyOne is definitely worth a shot.
The thing about membership plans like this is that you need to make the most out of it while you can.
You should take advantage of the access that you are getting for the entire duration of your subscription.
Their PRO Plan is priced at $19.99/mo.
✓

Pros:
Specialized photography training site

Hundreds of tutorials on every topic

Recorded and live webinars

Events and networking opportunities

Creative toolkit for hands on experience

Great value for your buck
✕

Cons:
Subscription isn't for you if you want to learn very few topics

Different instructors (more like an advantage though)
==> Click here to check out KelbyOne.
---
CreativeLive Review
---
What is CreativeLive?
CreativeLive is a popular online educational site that covers every topic imaginable, from iPhone photography to wellness to sewing and so forth.
They began as a simple experiment between two friends, Chase and Craig, last 2009. They wanted to inspire others by letting them see professionals and experts do their work, and surprisingly it clicked.
Today, CreativeLive continues to grow with at least 650 instructors and around 10 million students all around the globe. The lessons and trainings easily grew to 1500 in number, something that's quite a lot for a young platform.
This is a clear sign that they are very committed to providing lessons for enthusiasts and professionals alike.
---
Membership/Pricing
Okay, let's talk about this one first, since I believe it is of utmost important (second to high quality content of course).
At CL, you have the freedom to choose between paying a fixed monthly (or annual) subscription fee, or pay on a per course basis.
For the subscription, it is regularly priced at $39/month and $149/year.
Sometimes, if you are lucky enough, they offer huge discounts that can even get you a $13/month membership deal.
As for the other option, prices range from $14 to as much as $299 per course.
This is only recommended if you have a specific topic in mind. Say for instance, if you only want to learn about Lightroom presets, then you can just simply pay for that course alone.
FAQ: Do they offer free membership like KO?

Right now, there isn't a free membership program at CL. However, there are a handful of free courses you can take to get an idea how they do things there. That's pretty much the same as becoming a free member.
==> Get your CreativeLive all access pass here.
---
Courses
To be honest, I'm amazed at the wide array of lessons available at the site.
They don't focus on photography and photo editing only. Like I mentioned earlier, they offer tutorials in the other areas as well. Specifically:
Photo & Video

Art & Design

Music & Audio

Craft & Maker

Money & Life
Each category has hundreds of classes that you can stream anytime and anywhere, at your own pace (with a CreativeLive creator pass).
---
Curated Learning Experience
This is another great feature from CL, and you can greatly benefit from it if you wish to learn continuously about your hobby.
Here, you are given a set of hand-picked courses that are interrelated to each other.
Say for instance you want to focus on photography (as a beginner), so they will be giving you lessons that usually begin with fundamentals and end up with post-processing and production.
By the way…

John Greengo's "Fundamentals of Photography" is one of the most popular tutorials on CreativeLive (and for good reason).
---
Is Creativelive Worth It?
CreativeLive certainly is worth it, especially if you have a wide array of interests and are a lifelong learner.
There is a good reason why it's become one of the best learning websites on the net. If offers a lot of value, delivers quality content and does that at an affordable price.
As a beginner photographer, you can learn the basics of photography, but also the business and marketing side of it.
How awesome is that?
Their all access Creator Pass is priced at $39/mo.
✓

Pros:
Thousands of classes available

Offers lessons on every topic imaginable

Exclusive photography/photo editing conferences

New tutorials every month

Pay-per-course and subscription options available
✕

Cons:
Membership plan costs more than KelbyOne's

The amount of classes can be overwhelming at first
==> Click here to check out CreativeLive.
---
Which One to Choose? the Verdict
---
KelbyOne and CreativeLive are two different training platforms. They're both focused on helping you improve your photography skills, but they work in slightly different ways.
So, which one should you choose?
As you can see, both platforms have their fair share of pros and cons, and it's really up to you to decide which ones to go for. I'll just leave you some tips that will help you ultimately decide afterwards.
The price of the lessons or the membership plays a crucial role in deciding which one to choose.
Honestly, you shouldn't spend money on something you can't benefit from.
If you only need one specific course and don't have any plans on studying about related topics, then it really would not be worth to pay for a monthly membership plan.
In that case, investing in individual courses at CreativeLive makes more sense.
This is for those who would love to gain knowledge on more than one topic, or those who want to continually be updated with the latest trends about a certain subject.
You'll save thousands by paying for a monthly or annual subscription.
As of today, KelbyOne's pricing plans are cheaper.
If you are not only focused on learning photography but other craft as well, then you might want to join CreativeLive since it offers more variety in terms of tutorials.
If you prefer strictly photography and post-processing courses, then KelbyOne is the obvious choice.
(You may also want to consider Phlearn instead of KelbyOne.)
---
Kelbyone vs Creativelive: Thoughts?
---
Now…
I'd like to hear from YOU: