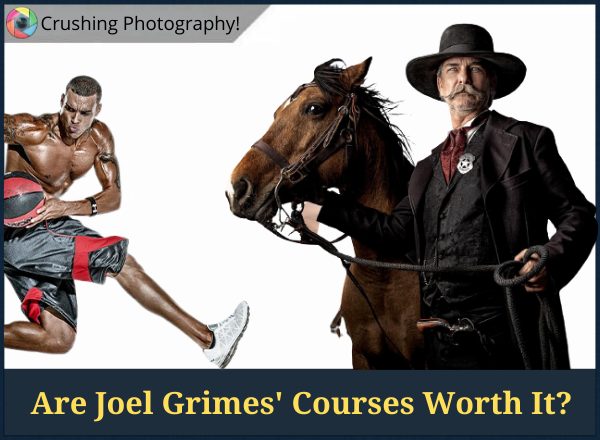 Learning photography from scratch may be difficult. But, you can make your journey easier by following the lead of those who know the craft very well.
This might be the very reason why a lot of beginners and enthusiasts are drawn to online photography courses promising to make them like a pro in a short span of time.
Today, we will be talking about Joel Grimes training, some of the best online courses for intermediate/advanced level photographers.
Here's an overview of what to expect here:
who is Joel Grimes

what courses he offers

are they worth it

who are they best for
Without further ado, let's go into the details.
---
Joel Grimes Review (Summary)
---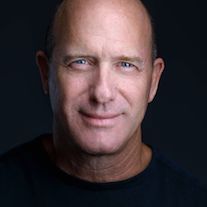 Purpose: Mastering photography
Instructor: Joel Grimes
Website: https://www.joelgrimes.com/
Best For: Intermediate photographers
Price: $47 – $5,202 (depends on the course)
Recommended: Not for everyone, but yes
Without a doubt:
Joel Grimes is a great photographer and instructor. So you'll definitely learn a lot from him. But there are 2 things you should keep in mind:
1) His training is for advanced level photographers. (If you are a newbie and want to learn the basics, start with Mark Hemmings instead.)

2) Do know that some of his best-selling courses don't come with a cheap price tag. Without a discount, his bundles can cost up to $5K.
This being said….
If you already have experience in photography, are certain you'd like to have Joel as your instructor and have the budget to invest in his training, then he might be the right choice for you.
==> Start with Joel's affordable lessons on CreativeLive.
---
Who is Joel Grimes?
---
Before we talk about some of the most promising courses of Joel Grimes, it's good to know a little bit of background about the man himself, right?
JG is a professional photographer with over 30 years of experience.
He is a true lover of the art since his early childhood days. He is not only talented in the field of photography, but he also has passion for sculpting, drawing, painting, and music.
He is a successful commercial photographer and he creates stunning visuals of his subjects. He makes even the most mundane things come to life with his photography and editing skills.
As an instructor, he also has a good reputation among his students. He intends to not only teach his students, but also inspire them to become the best that they can be.
And he does all this by sharing his knowledge and expertise through his video tutorials. He divides them into following 3 categories:
The Complete Pack

Start to Finish

Masterclasses
(Note: You don't have to buy the bundles if you don't want to, you can buy each of the tutorials separately, based on your needs.)
---
---
Joel Grimes The Complete Pack Course
---
'The Complete Pack' is one of the most comprehensive bundles you'll come across, especially if you're an intermediate photographer and want to step up your game.
It includes 8 masterclasses on how to shoot and build a photography business; 18 courses from portrait shots to landscapes to black & white photography to Photoshop editing, as well as 10 bonus tools like brushes and texture.
The other two important bonuses include Joel Grimes Facebook Academy and Monthly Q&A with Joel. 
It's important that you get all kinds of support as soon as you possibly can.
And don't underestimate being in a thriving, active, and engaging private FB community. Your fellow 'comrades' will be there for you should you have any specific questions or seek feedback.
Being surrounded by passionate photographers will help you increase your own potential and gain more inspiration. (Let's be honest, we all need it at some point.)
---
Course Bundle 2: Start to Finish
---
Look:
For a lot of folks, The Complete Pack bundle while comprehensive, it's also insanely expensive.
There's a second bundle Joel offers for a significantly lower price tag, and that's Start to Finish.
It won't include masterclasses and Photoshop brushes and texture bonus tools, but it does offer several tutorials that'll help you get better at what you do.
Specifically, you'll learn more about headshots and portraits, how to manipulate light, how to post-process and how to add drama to your photos.
In total, you get 18 courses.
Beauty Headshot

Beauty Portrait

Building Drama

Dodge Truck

Gold King Mine

Jessica in Iceland

Mad Max

Natural Light

Nefertiti

Simulating Sunlight

Strobing a Harley

Strobing Nature

Subaru Platography

Texture Background

The Buffalo Soldier

Rembrandt Cross Light

Wrapped in Fabric

Kerron Clement
Let's take the Beauty Portrait course as an example.
This course shows how Joel photographed his subject and how he did the entire post processing from beginning to end. Here, you will see behind the scene footages of the actual shoot, making you have a more realistic feel.
This lesson is short (under 40 minutes) which makes it really popular. Despite being brief, it is packed with helpful techniques that you can use for your next shoot.
This gives you a sneak peek of the entire photoshoot from start to finish.
This video shows the actual process of photographing the model. Here, you will see how your coach did the entire process and what techniques he used in order to make the subject look more stunning than she already is.
Video 3 – Post Processing
This is the core of this lesson. Here, you will see how Joel edits his photos from the very start to the end. You will see the step-by-step process he does in Photoshop, and everything else in between.
Note: Unfortunately, private Facebook community membership and monthly Q&A sessions with Joel are not included in this bundle.
---
---
Joel Grimes Masterclasses
---
Joel has 10 masterclasses all of which are worth checking out because all of those will help you become a better photographer and build a business out of it.
This is not bundled but you can invest in masterclasses individually.
(The price ranges from $27 to $397.)
Let's take Photo Prints Masterclass as an example.
This training is all about mastering the art of printing your own photos perfect for home display.
It is divided into 15 modules and lasts for about 4 hours.
It is intended for intermediate level photographers, especially those who already have an idea about Photoshop (this is the editing software used by JG in this course).
After watching the entire course, you are supposed to learn how important it is to pay attention to the printing process of your photos. That despite being in the digital age, it is still so valuable to print your photos and have it displayed where you want it.
This is a brief introduction to the course. It tells you what this is all about and how you can utilize this to produce better print outs of your images.
This clip will give you an idea on what to expect for this course.
Video 3 – The Importance of Print
Here, Joel Grimes and master printer George Kondagianis will help you realize why print is an essential aspect of photography. You will learn the real value of seeing your work come to life through printing it properly.
Video 4 – Which Printer to Use
This lesson will give you tips on how to choose the right printer that will help you get that perfect display-quality photos.
Video 5 – Setting up your tools
Here, the instructor will guide you how to properly install the drivers and software needed for you to start the layout and printing process.
Video 6 – Making the Print
Here, you will be guided on how to get your images ready from Photoshop to your printer.
Video 7 – Advanced Tutorial
This part is a more in-depth training about print and everything you need to know to produce that fancy photo display.
Video 8 – Fine Tuning Your Monitor
Here, you will be taught how to properly set up your monitor (color adjustment, white balance, etc.). This is a very important step you have to make so you can see how your photos would actually come out in print.
Video 9 – Prepping the Photos
Joel will teach you some fool-proof techniques in editing your images to make it print ready.
Video 10 – Lighting Conditions
Here, you will learn various photo techniques that can be applied to different lighting conditions (depends on where you plan to display your images).
This lesson will teach you the different kinds of paper you can use to print your photos. This is as important as prepping your images. With the right paper, you will have a great output.
Video 12 – Advanced Printing
This video will show you how George a.k.a the Master Printer, creates print for a client. You can pick up a lot of techniques just by watching this video.
Video 13 – Lifespan of Prints
Here, the coaches will discuss how long a certain print can last and what affects it greatly.
Video 14 – Print Making as a Business
This video will show you how you can turn print making into a photography business, or make it an extra source of income alongside your craft.
George shares his personal tools in creating his custom profiles.
Whether you want to learn about prints, retouching, the business aspect of being a photographer, you'll likely find a lesson that you'll like.
Though if your budget permits, getting it in a Complete Pack bundle is probably the best option.
---
Are Joel Grimes Courses Worth It?
---
Quick answer: Yes.
The thing is, it is always worthy to spend money and time on the things you love, especially if it can greatly enhance your existing skills. As for these courses, they are comprehensive and really educational.
As for the cost, the main bundle has a pretty heft price tag, but if you decide to buy a few individually, it's pretty manageable for most people.
All in all, I'm impressed with Joel Grimes' courses. They are comprehensive and just of the right length.
(You can check out everything he offers by visiting his site, or you can start with cheaper tutorials offered on CreativeLive.)
And just as a reminder:
He offers a free masterclass for interested individuals. It is absolutely accessible by everyone.
Ready to crush it as a photographer this year?
SLR Lounge Premium is a treasure chest for photographers of all levels and is our #1 recommended platform. Read the review now.
---
---
My Final Thoughts
---
It's always good to take advantage of new learning opportunities, especially if you wish to improve your skill set.
And learning it from the comfort of your homes even makes it all better. I truly believe that studying in a familiar environment makes it easier to absorb information, rather than feeling restrained inside an actual classroom.
Truth is:
Not everyone is born with natural artistic and photographic talents. Even some of the professionals you look up to made a lot of effort in studying the art just to achieve what they have now.
And you too can become as great, if you put in the efforts.
Though there are a lot of ways on how you can master the art of photography, one of the most effective is enrolling in workshops, seminars, or better yet full training courses.
And it's not very difficult to do that nowadays. In fact, there are thousands of online photography courses offered right now.
Here are the ones I absolutely recommend:
All of these are top quality.
Now, if you'd like a particular genre or have a specific budget, then let me know in the comments and I'll suggest the one that suits YOU best.