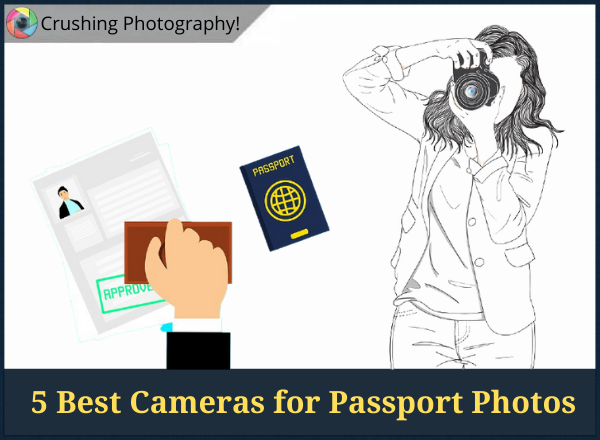 Look, a decent passport photo is a common requirement for document processing today.
But guess what? You can totally skip the hassle of going back and forth to the studio and instead take your very own ID photo at home, by yourself.
In this post, we'll cover the 5 great beginner-friendly cameras for passport size photos (2023 update), and then you'll get tips on how to take good/acceptable headshots when it's time to apply for a new one.
Here is a list of the DSLRs that'll help you get a great ID photo:
Best starter camera (under $500)

Beginner friendly DSLR for ID photos

high resolution stills & vids

Solid upgrade from D3x00 series

outshines its competitors

no low pass filter = GOOD

Great for variety of photo genres

built in optical viewfinder

Best affordable FX camera body

great level of image detail
Don't be discouraged if you are not a "pro" photographer because you won't need any special skills. You only need the right gear and right venue to accomplish this simple task.
But first, a word on lenses…
---
What's the Best Lens for Passport Photos?
---
Before we delve into the different cameras, let's talk about the lenses fit for this kind of photography.
For starters, a 50mm or 85mm prime lens would work great with a cropped sensor SLR like most of the ones mentioned below. This is the best value option for all photographers.
READ ALSO: The difference between 50mm and 85mm lenses.
Having this lens will ensure that you can have a decent ID photo without compromising resolution after a post-processing crop.
For DSLRs with full frame sensors like D610, you can still opt for a 50mm prime, but you could also get yourself a convenient 24-70mm zoom lens for great portraiture.
(If you're on a budget, the kit lens would work fine too.)
Now, what is the best camera for passport photos in 2023? Let's find out.
---
1. Best Starter Camera Under $500 Today
---
Nikon D3500
Type: Compact SLR
Weight:  365 g
Resolution: 6000 x 4000
Sensor Size: APS-C (23.5 x 15.6mm)
LCD Screen: Fixed, 3"
Touchscreen: No
Weather-sealed: No
ISO: Auto, 100 – 25600
Where to buy online:

Amazon

,

BH Photo Video Store
Nikon cameras have always been great, even their entry level ones like D3500. Despite being categorized as a beginner's DSLR, it offers more than what an enthusiast would expect to get.
When you start your photography journey, it is normal to look for an affordable gear and Nikon D3500 is a great option to consider. It is not only the best one for beginners, but also a cheap one offered by the brand.
D3500 is a good digital camera for passport photos because it's super easy to work with. Also, it comes with 24MP photo resolution, making it even better than using your smartphone to take an acceptable ID picture.
✓

Pros:
Super lightweight

Newbie friendly

Affordable

Great resolution

Awesome autofocus (AF) system
✕

Cons:
Screen is not articulated

Live View could use some improvements

Not weather-sealed

---
2. Entry-Level DSLR for Passport Photos 2023
---
Canon EOS Rebel SL3
Type: Compact SLR
Weight: 449 g
Resolution: 6000 x 4000
Sensor Size: APS-C (22.3 x 14.9mm)
LCD Screen: Fully Articulated, 3"
Touchscreen: Yes
Weather-sealed: No
ISO: Auto, 100 – 25600 (expands up to 51200)
Where to buy online:

Amazon

, BH Photo Video Store
Knowing how to take a passport size photo with a DSLR would really be an advantage on your part. Imagine not going through all the hassle of going to a professional photographer every time you need one. That would just be fantastic and practical, of course.
You just need to find the right camera that works best for that purpose and who knows? This might be the start of your photography journey.
Rebel SL3 is another great device that will let you take that studio-like headshot at home. It is one of Canon's budget-friendly entry level digital SLRs that is definitely worth checking out.
Ergonomically speaking, Canon did a great job with SL3.
The physical controls are placed in a convenient layout, making it easier to access (especially for beginners and first-time DSLR users). The buttons allows you to navigate and edit settings physically instead of a complicated on-screen menu.
✓

Pros:
Optical viewfinder

High resolution still photos and videos

Touchscreen

Fully articulated LCD screen
✕

Cons:
No in-body image stabilization

---
3. Great Crop Sensor Camera for Serious Enthusiasts
---
Nikon D7200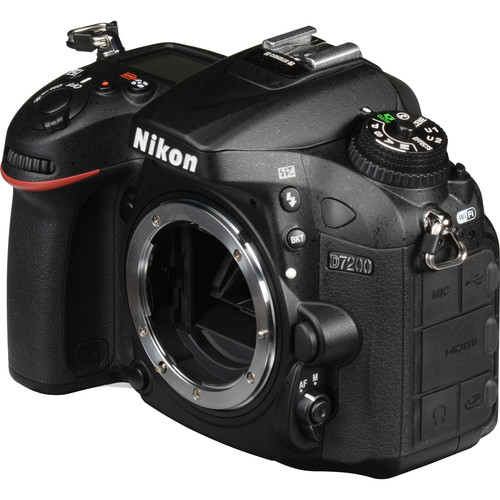 Type: Mid-size SLR
Weight: 765g
Resolution: 6000 x 4000
Sensor Size: APS-C (23.5 x 15.6 mm)
LCD Screen: Fixed, 3.2"
Touchscreen: No
Weather-sealed: Yes
ISO: Auto, 100 – 25600, expands to 102400 for B&W only
Where to buy online:

Amazon

,

BH Photo Video Store
Most enthusiasts think that the best camera for passport size photos is something that's expensive, fancy and high-end. However, that's not the case.
Truth is…
There are so many entry-level digital SLRs that perform well when it comes to taking ID photos. And one example of that is Nikon D7200.
The good thing about buying a D7200 is that you get to experience high quality features at a reasonably affordable price.
That's something you should always look for when starting your photography career. While you might want to invest in high end products, you really won't need it as a beginner.
Note: In this post, I review the D7100 (older model) and explain why D7x00 are a better choice than D3x00 or D5x00 series.
Now, D7200 has a good overall design. It provides you with a good grip of the camera and easy access buttons to change settings quickly when you need to.
Another feature that gives so much edge to this product is its robust weather-sealing. Though not as tough as top tier rivals, it still withstands harsh environmental and weather conditions.
(You may not appreciate this feature yet since passport photos are usually done indoors but you might down the road.)
✓

Pros:
Beginner-friendly menu

Excellent design and button layout

Great battery life

Superb low light performance

Environmentally sealed
✕

Cons:
No touchscreen

Fixed LCD screen

Absence of focus peaking

---
4. Great Choice for a Variety of Genres
---
Pentax K-70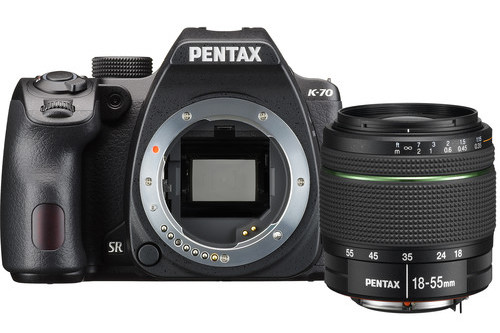 Type: Compact SLR
Weight: 688 g
Resolution: 6000 x 4000
Sensor Size: APS-C (23.5 x 15.6mm)
LCD Screen: Fully Articulated, 3"
Touchscreen: No
Weather-sealed: Yes
ISO: Auto, 100 – 102400

Where to buy online:

Amazon

,

BH Photo Video Store
Pentax K-70 is another strong contender when it comes to beginner-friendly cameras. It has good set of highly functional features that will change your photography game for the better.
Its large APS-C sensor allows you to take portraits with a dramatic blurry background. Its naturally shallow depth of field lets your subject pop and stand out despite noisy or messy backdrop.
Can you take your own passport photo with this DSLR?
The answer is a definite YES!
Its high resolution sensor plays a vital role in achieving that professional-looking photo that you need.
Since passport photos require close up shot and specific size, you will definitely need to crop your photo to adhere to that. Unlike point-and-shoot type of cameras or smartphones, you will not have problem producing sharp and clear photos with a K70 even after cropping.
The presence of WiFi connectivity is also a great edge of Pentax K70 over its counterparts. We all know how we can process documents online, right?
In scenarios like this, there will be a need to upload the photo to the site. You can do that quickly without transferring files to a computer with K70. It saves you a lot of time, really.
Lastly, if you plan on doing serious photography, this DSLR will help you explore different kinds of genres.
✓

Pros:
Built in optical viewfinder

Ergonomics

Sharp images

WiFi connectivity

Amazing for different photography genres
✕

Cons:
Shorter battery life than rivals

the interface may a bit challenging to master for newbies

---
5. Cheap Full Frame DSLR in 2023
---
Nikon D610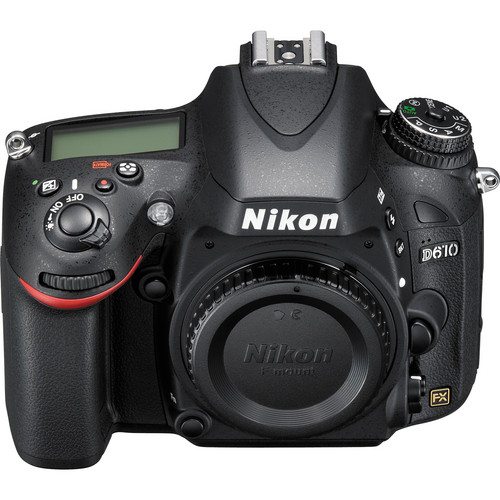 Type: Mid-size SLR
Weight: 850 g
Resolution: 6016 x 4016
Sensor Size: FX (35.9 x 24mm)
LCD Screen: Fixed, 3.2"
Touchscreen: No
Weather-sealed: Yes
ISO: 100 – 6400 (expands to 50 – 25600 with boost)
Where to buy online:

Amazon

,

BH Photo Video Store
Generally speaking, full-frame sensor DSLRs are for more advanced photographers.
I would go for D610 (or D750). I've decided to include it here, in case you want a FX sensor camera for passport photos and other needs.
If you are a fan of this brand, you probably know that this is an older model, but hey, it still got some excellent features you shouldn't forget about.
The best part about D610 is its ability to produce images with rich natural tones. This is very essential when taking ID photos (especially for passport processing and government docs).
For this specific picture, you need to look as natural as possible, and that's what this camera is going to give you.
The low light performance of this beauty is also excellent. For formal portraits taken at home, this will really help you get a bright image without using extra lighting set-ups.
Lastly, its AF system really does well in tracking the subject. In short, you can rely on the AF instead of setting your camera manually (you can also do this later, but just to be safe use Autofocus instead).
✓

Pros:
ergonomic body

high speed of operation

advanced manual settings

high level of detail up to ISO 3200

interval shooting and HDR

Full HD video
✕

Cons:
bigger in size and weight

fixed LCD screen

challenging interface for complete beginners

---
Tips & Requirements for Passport Photos
---
Now you may wonder, how to take a nice ID photo? How to take a good passport photo at home with DSLR?
Having a good camera to take your ID picture is nice, but that's not all there is to it. There are a few other things you will need to consider if you want to do it yourself.
You need to know the right passport photo camera settings in order for it to produce a decent shot. You need to know which accessories to use, how you should pose, and what background you should have.
So, here are some tips for taking pictures at home with a DSLR of your choice.
Note: Each country has its own requirements how your ID photo should look like, but more or less, these are the common things among them all.
1. The Background
For this one, you don't need a fancy backdrop or anything like that. What you need is a plain white (or it could be off-white/cream) background. You can even use your bedroom wall for this.
If in case they aren't painted white, you can improvise by hanging a white sheet, temporarily taping up white paper to the wall, or magically turn your wall white in post processing.
All these tricks will work as long as it doesn't distort your face in the resulting image.
2. Posture, Facial Expression
You should have a neutral facial expression for an ID picture. Smiling brightly, frowning, squinting eyes and the likes are unacceptable for this kind of shot.
Also, your photo should show your full face, with hair neatly brushed back (for women) behind the shoulders. Some countries even require tucking the hair behind the ears so it doesn't get in the way of your face.
When taking the photo, make sure your shoulders are straightened and that your face is directly facing the camera. Make sure to have eye contact with the lens.
3. Outfit
There's really no strict standards as to what you should wear for this kind of photo, but you are highly encouraged to dress well (not in a fancy way, but in a decent way). You can wear your every day clothes as long as they are not sleeveless (most countries have this requirement).
Wearing of fashion accessories like sunglasses, eyeglasses, hats are not allowed since it covers a portion of your face.
---
The Accessories That You'll Will Need
---
1. Tripod
The first accessory you would need is a tripod (especially if you are taking the shot on your own). The picture needs to be as sharp as possible, so any distortions due to shakiness would just throw it away.
2. Ring Light
Although optional, you might want to use a ring light (the ones often used by vloggers to have additional lighting). This will give you a brighter photo in case you can't find a well-lit area at home.
3. Photo Paper and Printer
Most importantly, you will need a paper where you can print your passport photos on. After cropping and editing your image, you can resize it to 2" x 2" (most common ID picture size).
Once you have it done, you can just print it out on a glossy or matte photo paper and you're done!
---
Passport Camera & Photos on Your Own (Conclusion)
---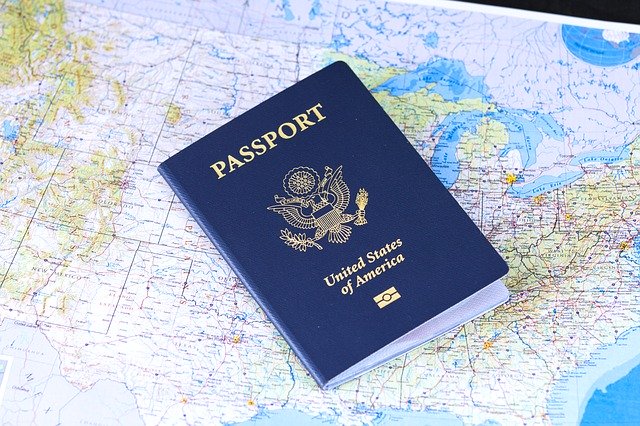 So, let's recap the passport size photo cameras:
Nikon D3500 – best starter camera under $500 (with the Guide mode).
Canon Rebel SL3 – beginner friendly DSLR for passport photos 2023.
Nikon D7200 – sweet crop sensor camera for serious enthusiasts.
Pentax K-70 – great choice for different photography genres.
Nikon D610 – an old but gold (and cheap) full frame DSLR in 2023.
You might think that the best camera for ID photos are the pricier and more premiums models, but after being in the photography niche for many years, I can assure you it's not the case. You can actually do so much with an entry-level DSLR like the ones mentioned above.
For starters, you don't really need to know complicated camera setting for passport photos. You can have your gear on Auto and it will do the work for you. If you're serious about photography, consider online photography courses for beginners.
In case you ever feel like exploring the settings and manually do it, make sure you don't overdo it or else the photos might not be accepted.
Now, I'd like to hear from YOU:
What are your thoughts on this 2023 update list of the best cameras for passport photos?