---
Here's the thing…
For most people, winter is the best time to stay inside and snuggle in the warmth of cozy blankets and enjoy hot drinks. But for photographers, this the best chance to capture splendid sceneries to help expand their portfolio.
There seems to be something magical about having a blanket of white snow cover mountain tops, bare tree branches and the ground. It makes even the most familiar surrounding look surreal and marvellous.
And photographers know better than anyone to pass on this rare opportunity.
But of course, if you plan on going out during the cold season, you better be equipped with the right gears and winter clothes to help you survive the weather.
This review of Palmyth flexible gloves is for you if you:
are a winter photographer (and/or angler)

love going outdoors in the cold

are looking for a good and cheap pair of gloves
Let's begin, shall we?
---
Palmyth Flexible Fishing Gloves (Summary)
---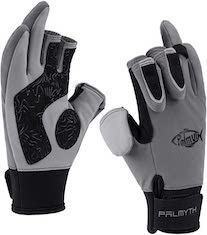 Product: Flexible gloves with finger caps
Company: Palmyth
Designed for: Mild to mid winter
Price: Under $50
Recommended: Yes

Where to buy:

>>>

Amazon
Best for: Cold weather photography, fishing, cycling, hiking etc.
You see…
Palmyth flexible warmers were originally made for fishing activities during the fall and winter seasons.
However, a lot of photographers recognized its effectiveness in keeping their fingers warm while doing outdoor shots. Not only that, they also provide the maximum dexterity that they need to hold their gear.
Hence, this product has become popular not only among anglers but also among those in the photography industry.
What you might like about this product:
Super affordable

Warm enough for mild winter days

Slim design

Flipcap fingers

Well insulated

Better dexterity

Good grip
The only downside is that this pair is only great for mild/mid winter conditions. (I also liked the previous model a little better.)
But other than that, I think they are a great choice for you, especially considering its low price tag.

---
Best Photography Gloves Right Now
---
In one of my YouTube videos, I explained why I chose Palmyth in my top 5 list. Check it out below:
==> Click here to subscribe for more videos!
---
Palmyth Flexible Gloves: Key Features
---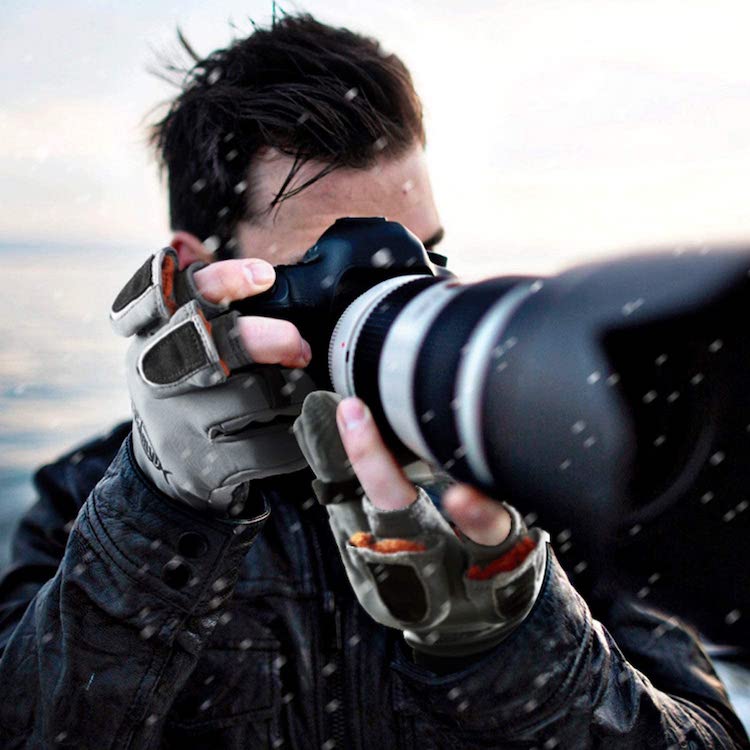 Now…
Let's talk about the different features this item has. Here are some that are worth noting:
A lot of people hesitate to wear thick mitts/liners for one reason: it limits your hand mobility and dexterity. However, if you want to survive being outdoors without freezing your hands, you need to protect it with some sort of insulation like warm gloves.
The good news is:
There are several products that are not too thick and bulky as regular winter hand warmers you usually know of. A good example of this is Palmyth flexible gloves.
It is made of stretchable outer fabric. As a result, it still allows you to move your hands comfortably while keeping it warm and dry. Plus, this kind of fabric makes it easier to put on.
Another thing about this product is that the fabric used on the outer shell itself is breathable. This means you won't have problems with sweaty hands. You know how bad it gets when sweat and cold wind collide.
Compared to other hand warmers, Palmyth is significantly slimmer and sleeker in design. You can still use your hands to properly grip your camera, press buttons, and even control dials.
It comes with a synthetic leather palm grip pattern that helps you have a good hold of the things you might want to carry by hand.
It can be your mobile devices, a cup of warm coffee, or even your other photography gears. That means you no longer have to worry about them slipping from your hands with this glove design.
One of the few things that distinguishes normal ones from specialty gloves for photography is the touchscreen compatibility. Although there are a number of products already having that feature, Palmyth doesn't.
However, they still want you to be able to interact with your touchscreen devices (cameras, smartphones, etc.) without removing the entire glove off your hands.
Instead of incorporating special fabric compatible for touchscreen functions, they used the flip caps design on three fingers (thumb, index and middle).
So how does this let you operate your touchscreen devices?
Simple.
You just need to flip it back and expose your bare fingers to be able to do that job. Note that only the upper half portion of the fingers are exposed, so you won't really have freezing hands even though you keep it that way for a little while.
Those caps are equipped with magnets so they stay in place while you do your thing. You don't need to worry about it messing around while you are fumbling with your camera settings or whatever it is you are operating.
Pro tip: When looking for winter photography clothing gear, you should always consider the degree of insulation a product provides.
Even if it has functional design, it may not serve its realest purpose if it does not offer enough warmth to make you last a day outdoors.
Palmyth fishing hand warmers have three layer insulation, making sure your hands are warm, dry, and nice all day long. It includes a soft fleece membrane that offers maximum comfort for your hands.
It also comes with a TPU material making it more weatherproof.
Another amazing thing about this item is that it is surprisingly weatherproof (considering its price point, by the way). Not all hand warmers in this price range can gift you this kind of protection, honestly.
The materials are wind and water repellent. However, you should know that it is only meant for accidental splashes and gushes.
If you think you can submerge it intentionally in deep waters or drench it in the rain, then you thought wrong. When you do this, you will definitely end up wetting the product and your hands in the process.
Wrist Straps (Adjustable)
Have you ever tried putting on winter gloves that have loose wrist bands/straps? I bet you felt frustrated.
It may not look like it, but these bands and straps play a huge role in keeping your hands warm and toasty despite the freezing temperature outside. If it fits loosely, chances are wind and water will penetrate the insides, thus forfeiting its very purpose.
Palmyth knows this very well, and they made sure to address this problem before it can even happen. It is not a secret that each one of us have different wrist size, so it would be nice to have an adjustable glove just like this.
For this product, the manufacturer used Velcro tapes which are easy to use. You just have to adjust it to the right fit (as snug as possible) and you're good to go.
By now, I'm pretty sure you are very much aware of the difference between normal and specialty hand warmers.
Specialty hand warmers are those that serve a very specific purpose. For example, photography gloves. Most likely than not, it is designed to cater to the needs of photographers, which other users may not need.
At first glance, this product from Palmyth may look like a specialty hand warmer, but that's not really the case. In fact, it is now considered as one of the most popular multipurpose warmers for people who love going outside during winter. This makes it a really good product to invest in.
Instead of buying a lot of pairs for every activity you wish to engage in, you can invest in this affordable one and use it accordingly. You can use it for sports, fishing, photography, and even motorcycling during normal cold weather.
Washability/Easy Maintenance
Keeping the product at optimal working condition is important, especially if you want it to last for a long time. Some winter gears, however, require delicate hand washing in order not to damage the insulation or other parts of the warmer (especially those that comes with tiny electronic parts).
With Palmyth, this is not going to be a problem. Aside from not having electronics inside, it is also made out of sturdy materials so you don't have to worry about it wearing thin before you even get to use it the second time around.
It is both machine and hand washable. Just remember not to use bleach on it and don't put it on a tumble dryer.
One major concern about non-battery operated liners is that there is no way you can control the warmth it provides.
All you can do is rely on the insulation offered by the layers of fabric both inside and outside the item. However, Palmyth wants you to have an option of putting in more warmth into the product than it can offer (if there is ever a need to, by the way).
There is a secret pocket that allows you to store small hot packs inside. This only means you'll have that extra warm feeling every time you slip it into your hands.

---
Palmyth Flexible 

Gloves

Review: Thoughts?
---
Look…
Winter photography is a challenging task, particularly if you want to take photos of people without freezing your hands. This problem can be solved by wearing warm gloves while taking pictures.
However, choosing the right pair that would not only keep your hands warm but also allow you to operate cameras and phones with ease, isn't easy.
If you ever want to go out and take photos of your favorite spots as a cold weather photographer, do check out Palmyth flexible gloves.
But if in case you are planning to engage in activities during colder winters, you might want to try out other warmer options like Vallerret Ipsoot or Markhof 2.0 photography gloves.
Now, I'd like to hear from YOU:
What are your thoughts on Palmyth review?

Have you tried any other photography friendly gloves?
Let us know in the comments below!