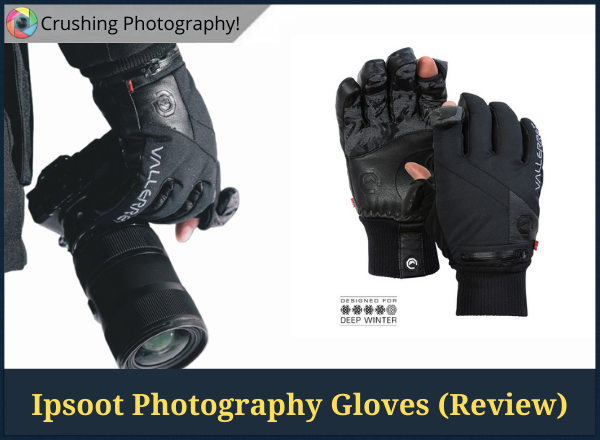 Unlike any other seasons, winter photography proves to be the most difficult to accomplish. Extremely cold weather is one major hurdle you should be able to withstand in order to get those eye-catching photos of snow covered landmarks.
The good news is that you don't have to freeze yourself to death just to be able to do this. Working smarter is the best way to go.
Specifically, wear the right winter clothing, have the best gloves for photography outdoors, and you'll be up for the challenge.
This Vallerret Ipsoot photography gloves review is for you if:
you are an avid winter shooter

you want to stay warm while shooting in the cold

are looking for a reliable product to protect your hands from freezing
Let's get started.
---
Vallerret Ipsoot Camera Gloves: Summary
---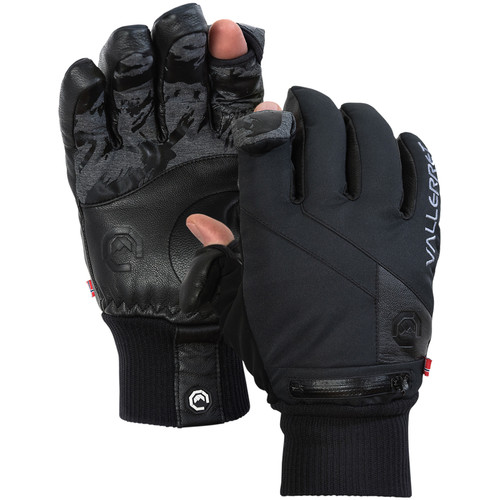 Brand: Vallerret
Product Type: Winter photography clothing gear/hand warmers
Weatherproof: Yes
Best for: Cold winter days
Price: Under $150
Recommended: Yes
Where to buy online: BH Photo Video, Amazon or Vallerret
The thing is:
As much as you want to be as dexterous as possible during winter season, you can't compromise your safety just because of that. It is true that wearing winter mitts/liners can sometimes limit your hands' mobility, but that doesn't mean you can't do anything anymore.
In fact, a number of products are now innovated in such a way that still enables you to use your hands while still keeping is warm despite being exposed to the cold all day. A good example would be the Ipsoot gloves by Vallerret.
Both founders of this company are winter sports enthusiasts and photographers who know very well the struggles of taking amazing photos in the winter seasons.
It was on 2015 when they decided to launch their first ever hand warmer tailor-made for photographers and that paved the way for Vallerret to become as popular as it is now.
Until today, the company is working hard to innovate new products and designs that will meet the needs of any photographer on a global scale.
==> Check out Vallerret's entire glove selection here.
---
Vallerret Ipsoot Photography Gloves: Features
---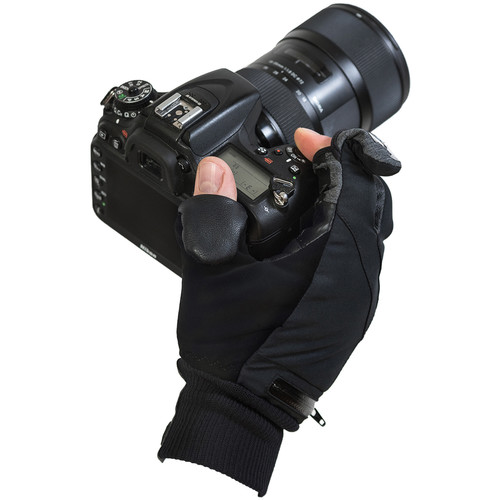 Now, let's check out the different features of this popular product.
First things first:
When shopping for winter gears, most of us prefer to know what kind of materials go into the products. This only means you value the overall quality of the item instead of just its design or appearance.
As I've mentioned earlier, Vallerret's founders are both photographers so they know better what type of fabric your hands would be comfortable with.
For these Vallerret gloves, the Ipsoot model, they used authentic goat skin leather for the outer shell. It is a popular material for many winter gears for the same reason: durability and robustness. So with this alone, this pair certainly feels solid and premium on the outside.
Now, the good thing about this brand is that they don't only focus on the outside. They also want the inner layers of these camera gloves to feel comfortable, soft, and wonderful.
There is no denying they have really outdone their rivals when they used 100% Merino wool for the insides of the warmer.
For better dexterity and touchscreen compatibility, Ipsoot has this unique flip caps for the index finger and thumb. This makes it possible for you to interact with your photography gear without really taking off the entire thing.
You just have to simply take the cap off (more like flip back) and reveal your fingertips.
At first, a lot of people keep worrying that this design might get in the way when shooting, but it doesn't. There are magnets in each cap so that it sticks to the back of the glove when you need it to.
Of course, let us not forget about the wrist bands. While other manufacturers included adjustable wrist straps using Velcro or pull up strings, Vallerret wanted something more snug-fitting. Hence, they used jersey cuffs.
Actually, this is pretty good if you get the right sizing.
Because the material is stretchable, it will be easier to put the pair on. And when you already have them on, the bands will re-adjust to its original size so it stays as fit as it should be. This way, cool wind and water can't get inside.
Some say this is useless since there are bigger pockets in your pants or winter jackets. However, this can come in handy at times as well.
If you don't want to keep misplacing your memory cards or other tiny items, you can use this stash pocket anytime. It will be easier to access those things and you will rarely forget where you placed them.
In case you really don't want to store something valuable in that stash, you can simply put in small hot packs in it. This will help you feel warmer (though I doubt there is ever a need for that with this model).
Note:
Ipsoot is designed for deep winters so it is really warm even without hot packs. But if you easily get cold or plan to go out for long hours, then adding another insulation might help you survive the weather.
The thing about thermal hand warmers is that they usually don't offer that steady grip your bare hand could easily accomplish. They come in thick layers of fabric to protect you from the cold.
(Ipsoot is not an exception to this).
However, this model comes with a non-slip design along the palm to ensure that you still can hold your gears well despite wearing the product. This is very helpful especially if you are shooting outdoors.
It would be heartbreaking to see your DSLR camera drop in the middle of a session and worst, ends up getting broken.
If you've had one or two pairs of winter hand warmers, you probably noticed that the fabric used for the outer layer isn't soft. So, it is not really a good material to wipe your delicate lenses with.
Vallerret knows this too, so they thoughtfully included a small microfiber lens wiper at the back of the thumb. You can use this to easily and conveniently wipe away some dust particles or even the fog clouding your camera lens.
As mentioned earlier, this item is warm enough to make you last being outdoors below zero temperatures. Thanks to the Merino wool liner that does the job pretty well.
Aside from that, there is another membrane inside called Thinsulate. This is an added insulation to ensure that your hands will stay warm, toasty and dry as they should be.
It is important for gears like this to be weatherproof, and Ipsoot model didn't come short in that area. In fact, it is both water and windproof.
The outer shell comes with a twill (2 ply) which allows for more water and wind resistance.
==> Click here to grab yours today.
---
Vallerret Ipsoot Winter Gloves: Pros and Cons
---
Let's be honest here…
No product is too perfect. Even top of the line photography gloves have its flaws and strengths, even Ipsoot. So, I listed a few things below that you might or might not want about this product.
✓ Pros:
Excellent quality

very durable

mid price point

wind and water resistant

finger caps

snug wrist straps

true to size
✕ Cons:
still might not be the best choice for sensitive hands

bulkier than other products from this brand
Final Thoughts
This product is for you if you need to be out in the open during extremely cold winter days. It may be somewhat weatherproof, but you still can't drench it in the rain or snow.
This may not give you as much dexterity as that of its sibling, Markhof Pro 2.0, but it definitely is a whole lot warmer than that.
==> Grab your own pair of Vallerret Ipsoot photography gloves.
Now…
What are the best winter photography gloves, in your opinion? Do you own any model of Vallerret gloves for cold weather shooting? Let us know in the comments below!