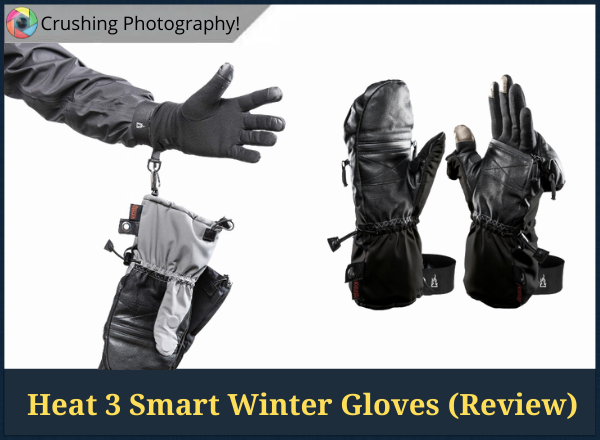 Let's face it… Winter photography is always mesmerizing.
You get to capture breath taking scenes you would never find any other days of the year. But, you need to keep in mind all the gears you will need to make the most out of your photo session outdoors during this cold season.
In this Heat 3 Smart gloves review, we'll see if it is the right pair of hand warmers for you photographers.
Here's what to expect here:
the product's key features

pros and cons

alternatives for cold weather photographers
Without further ado, let's get started.
---
Heat 3 Smart Gloves: Summary
---
Brand: The Heat Company
Materials: Genuine goat leather outer shell
Weatherproof: Yes
Best For: Cold weather photography
Price: under $200
Recommended for: Sub zero temperatures
Look…
When winter hits, you need a pair of gloves that would provide you with warmth and protection from the cold weather.
An ideal glove should be warm in cold weathers, flexible enough to use touchscreen devices without removing it. One of those is Heat 3 Smart.
I think this pair are a winter/arctic photographer's dream come true.
They allow you to use your camera with gloves on, which may sound like a simple concept but it has been quite difficult in the past for many photographers. 
I personally own this product, used them during the Canadian harsh winters and I think they are great for your purposes.
✓

Pros:
Premium quality and feels

Better dexterity

Good grip

Touchscreen compatible

Very warm

Feels robust and sturdy

Weatherproof
✕

Cons:
Quite expensive compared to other products
If you have plans to go outdoors during extreme cold season to take photographs of your favorite sceneries and subjects in the snow, then I highly suggest you consider them.
Now, while the price tag is quite high, you should realize that this product was made for extremely harsh winter conditions.
Where to buy them online? Check price and availability on:
---
Heat 3 Smart Gloves Review (Video)
---
Below is my video of the gloves that you can check out. Thoughts?
==> Click here to subscribe to my channel for more updates!
---
The Heat Company: Quick Background
---
Before we proceed with the proper review, I just want to mention a few things about the company behind these camera gloves.
This company started on 1994 and both the founders are born in the Alps. Because of their location, they have always been exposed to cold weather conditions, prompting them to build this kind of business.
Ever since their start-up, they have gained popularity with many outdoor enthusiasts. To this very day, they are one of the leading and most trusted manufacturers of heated gears.
So…
Putting your confidence into their products isn't really a gamble. They have a good reputation for always providing high quality products to satisfy the consumers.
---
Heat 3 Smart Gloves: Key Features
---
==> Grab Yours Here! <==
Now, let's go through the most important features this product has to offer.
Okay…
When looking for winter photography clothing gear, it is quite important to pay attention to the kind of materials used to make the pair. Not only will it back up the quality of the product, but it would also make or break your outdoor experience once you set foot on the cold field.
The good news is that:
Heat 3 Smart uses premium materials to ensure both your comfort and functionality – something that all photographers want, let's be honest here.
The outer shell is made up of genuine goat skin leather. This material is known for its durability and robustness, so you can be sure that your pair of hand warmers can withstand normal use and abuse.
This kind of leather is also highly repellent to water, so you don't have to worry about it getting wet with accidental splashes or dips into water. However, intentionally submerging the pair into the water for long periods is another story not supported by this feature.
As for the inner liner, it is made up of microfiber cloth that is both breathable yet windproof. These are two good characteristics you wouldn't think you'd find in one glove liner. But with Heat 3 Smart, that is definitely possible.
Design-wise, this product is pretty smart – well, living up to its name. It functions like a 2-in-1 glove comprised of a mitten and liner.
On the outside, you will see a winter mitten. And as far as warmers go, this probably gives off the warmest feel and look just because the hands are well enclosed in one whole chunk of fabric, without any gaps. It is quite thick and bulky, but that only means it can give you warmer hands under cold weather.
If you think that is all there is to this item, then you thought wrong.
There is a hidden glove liner inside the mitts that you can expose when there is ever a need to (needless to say this for photographers and outdoor enthusiasts involved in active sports).
You just have to unzip the mitts and it will reveal a thinner glove liner inside (half hand by the way, not all the way through). The thumb also comes with a flap cover that you need to flip back to expose the liner.
The liners give you enough dexterity to control your camera dials. With half of your hand still covered with the goat skin leather palm, you will still have a good grip of your gears while being able to operate them easily.
Pressing buttons and turning dials will certainly not be a problem, plus your hands and fingers will still be warm with the liners.
Touchscreen compatibility
One of the most important features a glove can have is touchscreen compatibility, and Heat 3 Smart did not fail us with this one.
Actually, this feature is very helpful and handy since most devices now come with touchscreens. So instead of going through the hassle of taking off your hand warmers entirely, you just need to unzip the mitts and use the touchscreen compatible glove liners inside.
This way, you can save a lot of time and effort. Plus, your hands don't have to suffer the cold while you are doing all these things.
Before we proceed with the next feature, I'd like to emphasize that not all the fingertips come with the special touchscreen compatible textile. Only the index finger and the thumb have that dedicated fabric that allows you to interact with your devices' screens directly.
Now…
As far as insulation goes, Heat 3 Smart uses Primaloft Gold. This is one of the best synthetic insulation any garment can ever have today. It allows you to store about 95% of heat into it, keeping your hands warm and toasty despite being outdoors under the cold winter weather.
Conventionally, insulation with great warming capabilities are bulky. However, this one isn't. In fact, it is more lightweight than other synthetic insulation of its class. This makes it even more fitting for a photography hand warmer like Heat 3 Smart.
Another good thing about this product is that it comes with a multipurpose backhand storage. You can either use it as a holder of your extra memory cards, or insert small hand warmer packs in it. This is really helpful for those of you who easily get cold during winter.
The added warmth from the hot packs will definitely help you survive the outdoor cold.
Have you ever been frustrated about loose gloves that keep falling off your hands in the most important moment?
With Heat 3 Smart, that is unlikely to be a problem. It comes with safety straps that you can connect to your gears or winter clothing so that you will not lose any part of the glove. This is another game changer.
Aside from that, it also comes with adjustable wrist pull up strings to ensure a better and snug fit. This way, cold air will not penetrate the insides of your hand warmers. So, you still feel warm and nice all throughout the day.
---
Best Gloves for Photographers in 2022
---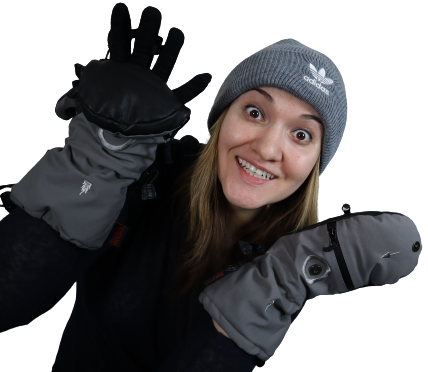 Quite frankly, there are a lot of great photography-friendly options out there. It just depends on what is your budget, how sensitive your hands are, and how cold is the temperature you usually shoot in.
Here are several products to consider:
---
Heat 3 Smart 'Camera' Gloves: Thoughts?
---
The Heat Smart Glove system allows your hands to stay warm while shooting without having to put up with cold fingers.
I think this product is really great for its class.
But just like any other photography gloves, it is not perfect and comes with a set of advantages and drawbacks.
Generally speaking, this product is for you if…
You want to keep your hands warm during extreme winter

You want to be able to interact with touchscreen devices

You want a reliable and premium hand warmer for your outdoor winter shoots
Admittedly, Heat 3 Smart doesn't come with a cheap price tag.
But hey, if you are paying for the quality and functionality, then it is totally worth the extra bucks. Just my humble opinion.
Now… What are your thoughts on this Heat 3 Smart gloves review?