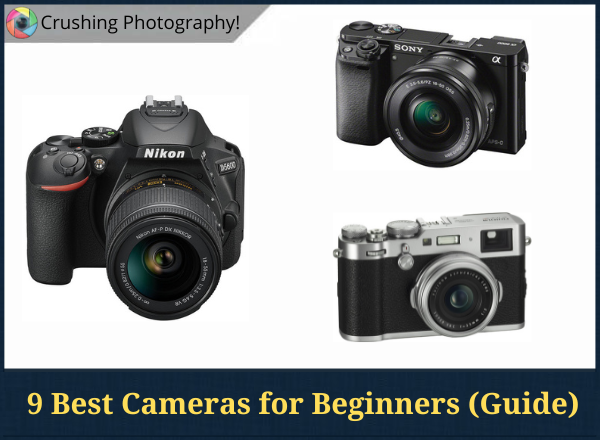 Let's face it…
If you are planning to buy one for yourself without someone to guide you, chances are you'll get overwhelmed with all the options and end up picking the product that isn't just for you.
So today, I'll be sharing with you this buying guide that includes a list of the best amateur cameras for photography in 2023. You will learn:
what are some of the best entry level cameras today

what are their best features

what to consider when buying first gear
If you are struggling to find the right device to start your photography journey, then you've come to the right place. Here's an overview of what to expect here:
Best cheap starter DSLR (under $500)

Best camera for serious enthusiasts

great image & video quality

Retro style SLR-like mirrorless camera

outshines its competitors

no low pass filter = GOOD

Fast, responsive, & simple starter DSLR

the ability to shoot in 4K

great price with a kit lens

One of the best entry-level DSLRs

good value-for-money deal

Best compact for content creators

very easy to use interface

Dual Pixel & eye detect AF

variangle touchscreen LCD

Great for videos (under $2000)

5-axis image stabilization

variangle touchscreen LCD

Best for landscapes and portrait artists

incredibly detailed images

great for astrophotography

Still one of the best mirrorless cameras

intuitive settings & controls

reliable hybrid AF system

protection/antidust system
Let's begin, shall we?
---
1. Best Overall Beginner DSLR (2023)
---
Nikon D3500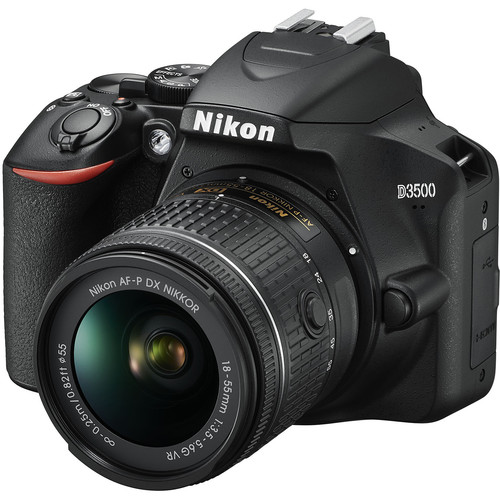 Type: Compact SLR
Weight: 365 grams
Resolution: 6000 x 4000
Sensor Size: APS-C (23.5 x 15.6mm)
LCD: Fixed, 3″
Touchscreen: No
Weather Sealed: No
ISO: Auto, 100-25600
Where to Buy Online: >> Amazon,

BH Photo Video
---
When it comes to DSLRs, especially entry-level ones, you'll always see Nikon somewhere among the top 5 contenders. It's really not surprising since it's an old brand and it's still very popular for their sturdy and highly capable photography gears.
Right now, Nikon D3500 remains to be the best camera for aspiring photographer, and for good reasons. It boasts a a lot of awesome and easy-to-use features at a really affordable price tag. Not only that, it's also a crowd favorite since it has reliable battery life.
Here are some other awesome features that you can expect from a Nikon D3500:
Considering it's an entry-level DSLR with an APS-C sensor, having this much resolution is a game changer. This is probably the highest image resolution any camera with this type of sensor can go. With these, you'll take breathtaking outdoor photos that are vibrant and as clear as day.
This feature is very helpful to beginners. It basically teaches you how to shoot different scenes. As its name suggests, it guides you into shooting a variety of scenes with the right settings for each.
When using this feature, you'll eventually learn how to set the D3500 to the right aperture, shutter speed and exposure. These basic things are what you need to strengthen your photography skills.
Another good thing about D3500 is that it has an excellent battery life. It's a 30% upgrade from its predecessor which is D3400. With this new battery pack, you can take as much as 1550 shots in one charge. That's more than enough to cover one photoshoot session, honestly. 
✓

Reasons to Buy:
11-point autofocus system

Bluetooth connectivity

Guide mode

Inexpensive

Easy to use for beginner photographers

Good ergonomics

Superb image quality
✕

Reasons to Avoid:
No touchscreen

Does not support 4K video recording

No Wi-Fi
Nikon D3500: Final Thoughts
Though it lacks a bit in terms of connectivity, its excellent image quality and ergonomics make up for it.
Plus the guide mode is just so helpful especially for newbies who are still learning the ways of camera and photography. All in all, it's a good product to invest in if you want to have a serious DSLR experience.

---
2. Best Camera for Serious Enthusiasts
---
Canon Rebel T7i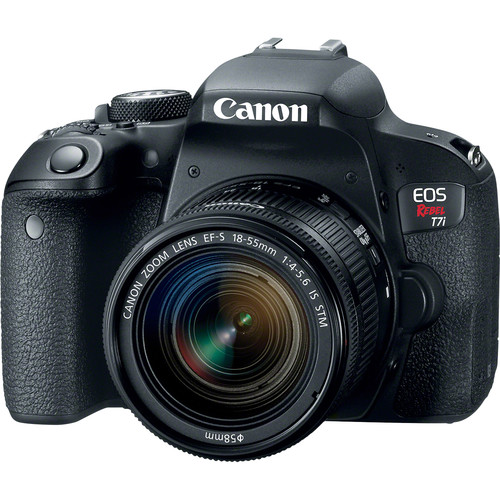 Type: Mid-size SLR
Weight: 532 grams
Resolution: 6000 x 4000
Sensor Size: APS-C (22.3 x 14.9 mm)
LCD: Fully articulated, 3″
Touchscreen: Yes
Weather sealed: No
ISO: Auto, 100-25600
Where to Buy Online: >> Amazon,

BH Photo Video
---
Canon, along with Nikon, is among the most dominating photography brands today, and we can all see why. They don't only focus on image quality, but they also dedicate a lot of time in making sure that the hard ware is robust enough to last long.
Rebel T7i is the latest and most popular Rebel series from Canon. It's basically an upgraded version of its predecessor T6i (review).
Though it looks closely similar in terms of design, a lot of features have been changed for the better. One example would be the image sensor which already includes Canon's Dual Pixel autofocus system.
Here are a few more features you can enjoy:
Just like the previous gear mentioned, Canon also equipped T7i with a Guide Mode feature, making it easier for beginners to learn how to properly take shots of subjects in different setting. This will greatly enhance the way you take images and will help prepare you to do manual settings later in the future.
Dual Pixel AF System with 45-cross type focus points
It's normal for amateurs to rely on default autofocus settings, it's just easier to shoot that way. So having a reliable AF system is very essential if you want to make shooting more convenient. You can easily make your subjects pop without breaking a sweat.
It's hard to rely on default white balance, honestly. But with Canon Rebel T7i, you can rest easy. Even setting it on "auto" mode will produce photos with excellent hues, tones and vibrancy. If you want, you can take photos in RAW format so that you can later edit the white balance in post.
✓

Reasons to Buy:
User friendly, easy to understand menus

Outstanding AF performance in Live View mode

Responsive touchscreen display

Excellent image resolution

Group photo mode among others
✕

Reasons to Avoid:
Dynamic range could use some improvements

Battery life needs improvement
Rebel T7i: Final Thoughts
Definitely, the Rebel T7i is a good choice for beginners. It has excellent photo quality and on top of that, it has a friendly user interface. Plus, it works well even when using default camera settings.
Oh, before I forget. Although it's T7i included in the list, I'd like to also mention its predecessor which is the T6i. If you are looking for a better price-quality ratio, then this older model is also a good option.

---
3. Retro Style SLR-Like Mirrorless Choice
---
Fujifilm X-T200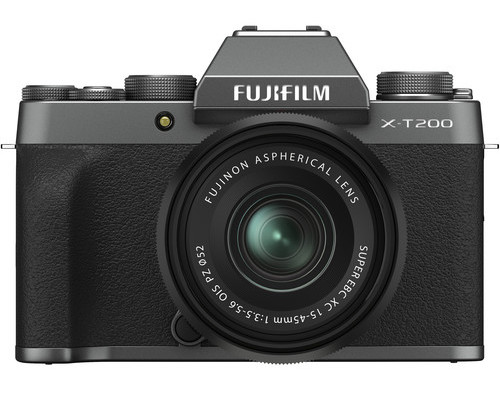 Type: SLR-style mirrorless
Weight: 370 grams
Resolution: 6000 x 4000
Sensor Size: APS-C (23.5 x 15.7 mm)
LCD: Fully articulated, 3.5″
Touchscreen: Yes
Weather Sealed: No
ISO: Auto, 200-12800 (can expand up to 100-51200)
Where to Buy Online: >> Amazon,

BH Photo Video
---
Once you start thinking about being really serious about photography, the first thing that comes to your mind is buying a decent camera.
Now the only problem is that most high-end cameras tend to be a little expensive (especially for young enthusiasts). And sometimes, we have this misconception that cheaper items have less quality than those pricier counterparts.
However, Fujifilm X-T200 just proved us wrong. It's a mirrorless baby that has a lot of awesome features but doesn't break the bank. Considering its capability to have interchangeable lenses that are inexpensive as well, it's the best budget option you can get today.
Here are a few more things you can enjoy with X-T200:
This item is quite unique. The design itself stands out if you let it sit side by side the popular Nikon and Canon counterparts. It has vintage feels but still got modern features. The body is covered mostly in leatherette, making it look as posh as a camera can be. You can also choose from three different styles since it comes in Silver, Dark Silver and Champagne Gold color variants.
Fully articulated 3.5″ LCD
This one's another great feature only X-T200 has. Instead of having the usual 3″ screen, this one has the widest at 3.5″. Plus you can flip it over, up or down and make it face towards the subject completely. This is perfect for those of you who love taking selfies or doing video recordings/vlogging.
Fully functional touchscreen
Since the screen is pretty big, you might have guessed by now that there's not a lot of space left on the rear for physical buttons. To compensate for that, the menus and all other settings can be accessed on the screen. For the younger generation, this might be better than having a lot of buttons on the side.
✓

Reasons to Buy:
8fps burst rate (great for sports photography)

Built-in viewfinder

Supports 4K video recording

Webcam support

Fast AF system
✕

Reasons to Avoid:
Short battery life

Will require a bit of getting used to after Canon or Nikon
Fujifilm X-T200: Final Thoughts
X-T200 may not be perfect, but it offers a lot of helpful features that will make you enjoy your start-up years as a photographer. Plus, it's way cheaper than its counterparts and lens availability isn't an issue as well.

---
4. Starter Camera for Social Media Influencers
---
Canon Rebel SL3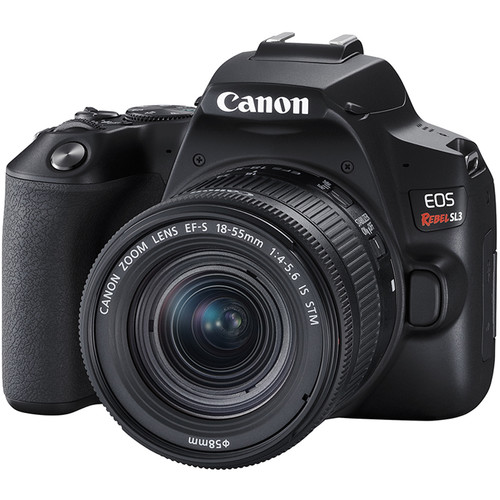 Type: Compact SLR
Weight: 449 grams (with batteries)
Resolution: 6000 x 4000
Sensor Size: APS-C (22.3 x 14.9 mm)
LCD: Fully articulated, 3″
Touchscreen: Yes
Weather Sealed: No
ISO: Auto, 100-25600 (expands to 51200)
Where to Buy Online: >> Amazon,

BH Photo Video
---
Another Canon product that made this year's list as the best amateur photography camera is the Rebel SL3 (EOS 250D outside the North America). And if you thought Rebel T7i is small, wait until you see SL3.
It's like a mini version of the T7i, when you look at it visually. Here are some of the most promising features of this item:
Not many SLRs support this feature, and finding one in the smallest model of Canon's SL series is quite surprising. This is one of the reasons why a lot of social media influencers love it.
This is another feature that you will definitely love. Because of this, sharing your photos has now become easier. You can even remotely control your Rebel SL3 when you connect it to your smartphone or tablet thru Wi-Fi.
Compact, lightweight, and easy to use
Because of these features, SL3 model works great for those who are just starting their photography journey, want to shoot casually, take travel photos and/or use it for their social media brand growth.
(Note: Some menu options can only be accessed by pressing the SET button.)
✓

Reasons to Buy:
Compact design

Outstanding Dual Pixel AF system

Tilt-flip LCD

Super lightweight
✕

Reasons to Avoid:
Video quality could be better

Not suitable for fast action photography
Canon Rebel SL3: Final Thoughts
If handy is your type, then Canon Rebel SL3 will certainly be the right fit for you. It's a good choice for those who want a lightweight yet extremely capable DSLR.
Without a doubt, it's one of the best amateur cameras on the market right now.

---
5. One of the Best Nikon's Entry-Level DSLRs
---
Nikon D5600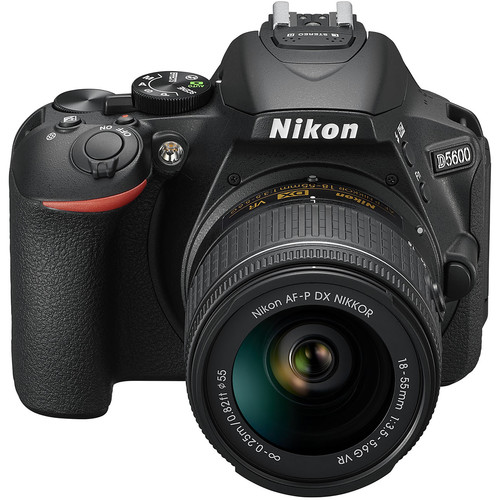 Type: Compact SLR
Weight: 465 grams
Resolution: 6000 x 4000
Sensor Size: APS-C (23.5 x 15.6mm)
LCD: Fully articulated, 3.2″
Touchscreen: Yes
Weather Sealed: No
ISO: Auto, 100-25600
Where to Buy Online: >> Amazon,

BH Photo Video
---
This is one of the best cameras for hobby photographers.
Nikon D5600 is the latest addition to the D5000 series. If you have been a fan of this line-up, you'll know how much improvement this newest model have undergone compared to its predecessors.
Now equipped with a touchscreen, SnapBridge system, and a lot of other advanced features, it certainly deserves to be included in this list of the best DSLRs for amateur photography.
Here are some of the key features that make this one good for novice shooters:
This is a feature that allows you to connect the camera to your smartphone. It lets you share your photos on a smart device while shooting. Through this system, you will also be able to remotely see Live View from your phone. The only downside is that it won't let you control any other settings, which is a bummer.
In photography, having gear with good ergonomics is a necessity. Since you will be holding it most of the time (unless you want to always use a tripod which limits angling, by the way), you need to have a good grip of the gear.
This model sports a deep handgrip that is not so tall, so it will allow you to comfortably rest you right hand on it even for long hours. But, some people may not agree on me with this one since ergonomics isn't just about handgrip.
It's true that you can hold onto it properly, but you can't find a lot of control buttons on the rear. You need to use the screen to interact with the camera often, which is a hard task to do when using gloves.
(By the way, check out this post on the best photography gloves.)
✓

Reasons to Buy:
Easy grip

Reliable autofocus system

Great photo resolution

Long lasting battery

Customizable auto ISO
✕

Reasons to Avoid:
Does not support 4K video recording

Not large enough buffer for high-speed burst shooting

Can't change the settings when shooting remotely (Wi-Fi)
Nikon D5600: Final Thoughts
This camera received mixed reactions from more experienced Nikon fans. Though it has some noticeable drawbacks, I couldn't discount all the amazing features it also has.
I still believe that it's a solid choice for beginners who want to have a great shooting experience with a capable and reliable DSLR. It offers a lot of value for your buck, and allows more room for growth.

---
6. Best Compact for Content Creators (2023)
---
Canon M50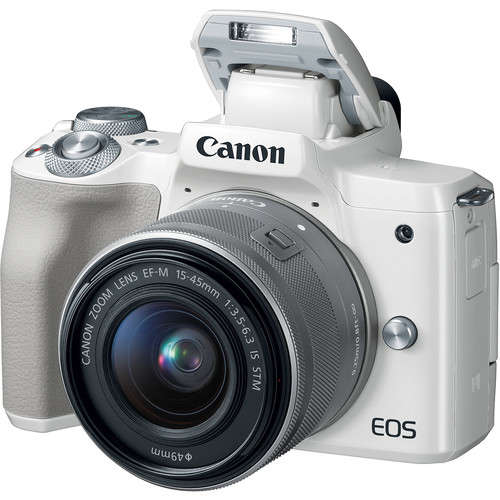 Type: SLR-style mirrorless
Weight: 390 grams
Resolution: 6000 x 4000
Sensor Size: APS-C (22.3 x 14.9 mm)
LCD: Fully articulated, 3″
Touchscreen: Yes
Weather Sealed: No
ISO: Auto, 100-25600 (can expand up to 51200)

Where to Buy Online: >>

Amazon, BH Photo Video
---
Today, many people go into vlogging/create YouTube videos. It's a really fun and cool way to share your interests with the rest of the world. And if you are into that thing, having the right gear is imperative.
I know a lot of people say that you can use your smartphone to do the vlogging, but of course the quality is far-fetched from that of a mirrorless camera.
Plus, there's so much a serious camera can do than smartphones ever will. That being said, I'd like you to check out these awesome features of Canon M50:
M50 comes with Canon's newest DIGIC 8 processor. It's the first model to have this processor and it's really a great feature. With this, you can now record 4K videos at a significantly fast 24fps rate. This is the main reason why it's great for vlogging and all stuff related to video recording.
Another thing that makes this item so likeable is it's built-in electronic viewfinder. Even though it's mirrorless, the EVF still allows you to compose your photos better than point-and-shooters. The only downside is that it's not as accurate as that of an optical viewfinder in DSLRs, but it still works pretty well.
Vari-angle touchscreen LCD
Truth is, many vlogging cameras have a flip-up/tilting screen, but this baby went to a new level to maximize the comfortable of video influencers who shoot on their own and need to see themselves on the screen. Super comfortable to access the menu and settings as well.
Now…
I personally own this little beauty and have written an in-depth review of Canon M50 here.
✓

Reasons to Buy:
Dual Pixel autofocus system

Functional touchscreen

Built-in EVF

Compact & lightweight

4K Video available

Fully articulated LCD
✕

Reasons to Avoid:
Short battery life

Can't charge it using the USB
Canon M50: Final Thoughts
If you are looking for a lightweight and easy to use gear for vlogging purposes, then this is one of the best picks today. It's fun to use and does not need you to have in-depth photography knowledge to be able to operate it well.
I'll say more: Canon M50 is one of the best mirrorless cameras under $1000 today and it's a real godsend for budding YouTube video content creators.

---
7. Your Go-To Gear for Videography
---
Panasonic Lumix GH5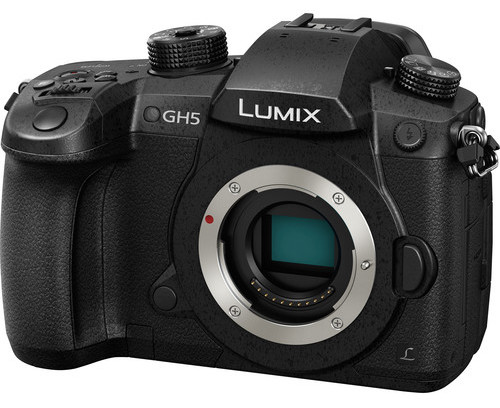 Type: SLR-style mirrorless
Weight: 725 grams
Resolution: 5184 x 3888
Sensor Size: Micro Four Thirds ( 17.3 x 13mm)
LCD: Fully articulated, 3.2″
Touchscreen: Yes
Weather Sealed: Yes
ISO: 200-25600 (100-51200)
Where to Buy Online: >> Amazon, 

BH Photo Video
---
Photography isn't just about taking stills. Sometimes, it leads you into loving videos as well. The moment that happens, you should be well prepared for it.
Normally, cameras boast constantly about ultra high resolution photos, but have you thought about the video quality? Well, let's be honest here. Despite having great photo resolution, it doesn't necessarily mean the video quality follows that. In most cases, it has inferior quality in terms of videos.
With GH5, that's not really much of a problem.
Take a look at these features and see whether or not you agree with me on that:
Being able to record 4K videos is one thing, but doing it at 60fps is another thing. This only means you can get the highest resolution possible for any video ever, while still being ultra smooth. No moments will be left uncaptured and all the significant (and even the tiniest bit) of details will be included in the frames.
5-axis in body image stabilization
Sometimes, our subject may require us to have the camera positioned at odd angles, thus affecting our grip's stability. Plus, we can't really do anything about naturally shaky hands, can we?
In order to avoid blurring the photos, you will need an image stabilization feature, which GH5 luckily has within it's body. Unlike others that rely on the lenses' vibration/shake reduction, an in-body image stabilizer is still more trustworthy.
✓

Reasons to Buy:
Great image & even better video quality

Weather sealed

Built-in image stabilization

Time code synchronization

Bluetooth and Wi-Fi connection

Great battery life and ergonomics
✕

Reasons to Avoid:
High price price tag

Not that great in low light

Log Profile must be bought separately

Heavier than most mirrorless rivals
Panasonic Lumix GH5: Final Thoughts
Panasonic GH5 is a digital mirrorless camera with advanced video capabilities and improved image quality in the Lumix family.
If you don't mind spending more on gear and more into video shooting, then this definitely is a good choice. Otherwise, you can choose other cheaper alternatives like the M50 which is actually popular among beginner and experienced YouTubers.

---
8. Great For Landscape and Night Photos
---
Pentax K-70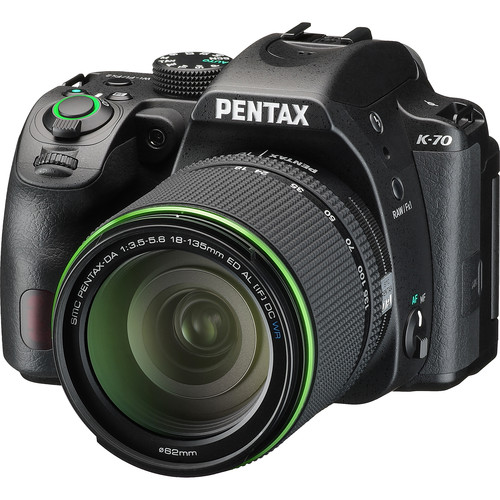 Type: Compact SLR
Weight: 688 grams
Resolution: 6000 x 4000
Sensor Size: APS-C (23.5 x 15.6 mm)
LCD: Fully articulated, 3″
Touchscreen: No
Weather Sealed: Yes
ISO: 100-102400
Where to Buy Online: >> Amazon,

BH Photo Video
---
I don't know why, but seems like Pentax is an underrated brand. They have great DSLRs with awesome image quality, but I guess it's not everyone's cup of tea, eh?
Well anyway, you might change your mind once you look at these awesome set of features K-70 has to offer:
Have you noticed that most of the starter DSLRs here are not environmentally sealed? That's because it's a feature you will most likely find in more advanced models. But Pentax made K-70 so weather sealed and still at a reasonably affordable price.
This feature means that this gear is meant to withstand harsh weather conditions. Even under snow, you will not have a problem going all out with K-70.
This system is unique to Pentax cameras. It reduces shakes when shooting at slower shutter speeds. It also improves color rendition and gives your photos extra fine details in the process.
This feature is pretty cool if you love taking photographs of the night sky. If you've already attempted taking photos of the night sky using a smartphone or compact/point-and-shooter, you would know how frustrating the results are. If it's not totally blurred and out of focus, everything looks like streaks of light.
With this feature installed, K-70 is capable of turning these astronomical object stationary. This will help you capture breath-taking night sky photos like never before.
✓

Reasons to Buy:
Pretty compact & portable, y

et solid and well-crafted body

RAW images are incredibly detailed (in 14-bit!)

Dust proof, wind

 proof, cold 

proof

Astrotracer system present
✕

Reasons to Avoid:
Kit lens could use some improvements

Viewfinder is a bit dark

The Movie mode is not very well-hashed out

No microphone input
Pentax K-70: Final Thoughts
It's not everyday you find a starter camera that lets you photograph the night sky effortlessly. If you're a fan of night (and landscape) photography, then best believe this would be the right product for you to begin with. Especially under $1000 price tag.

---
9. Best Camera for Amateur Photographers 2023
---
Sony A6000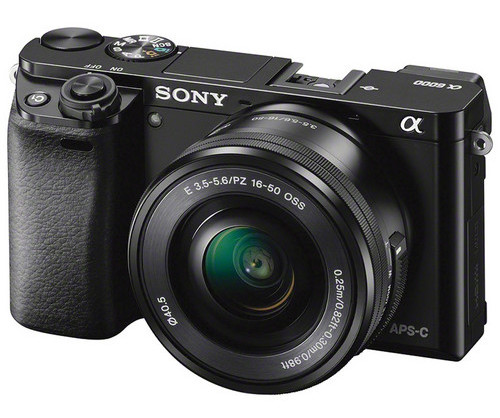 Type: Rangefinder-style mirrorless
Weight: 344 grams
Resolution: 6000 x 4000
Sensor Size: APS-C (23.5 x 15.6 mm)
LCD: Tilting, 3″
Touchscreen: No
Weather Sealed: No
ISO: Auto, 100-25600 (up to 51200)
Where to Buy Online: Amazon,

BH Photo Video Store
---
I lot of you might be wondering why the oldest of the A6000 series is listed here instead of the latest one. Well, it's simply because it has more price-quality ratio than the newest siblings in the market.
It may have been released years ago, but everything you will need from an entry-level camera is here, and it has a cheaper price tag. Thanks to the newer models being released, it significantly had a price drop after a while.
Check out these features and see why it's considered as "old but gold" item:
Unlike other beginner cameras that have poor hardware, this one has a solid feel. It has a metal body that makes it look and feel sturdy.
Also, I'd like to mention that it looks like a regular point and shooter plus the interchangeable lenses. Just imagine how portable it's design is.
Even after several years, this Sony model still got one of the most reliable AF systems so far. If your subject is a person, then it automatically detects the face and locks onto it perfectly.
In case your scene doesn't involve people, you just have to press the shutter button halfway through and it will automatically focus to the closest object. This is so much convenient for amateur shooters.
Performs well in low light conditions
One thing you should always think of when doing photography is that it doesn't only happen in broad daylight. Sometimes, you will have to shoot during night time or indoors where there's poor lighting condition. With Sony A6000, that's not going to be an issue.
At moderately high ISO levels, it captures great night photos with less digital noise. Just be careful in setting the ISO not too high, or else you'll end up with an over exposed photo.
✓

Reasons to Buy:
Superb image quality

Premium design and construction

Lightweight and small

Intuitive settings and controls

Excellent low light performance

Reliable AF system

OLED electronic viewfinder

Excellent starter camera for landscape & portrait artists
✕

Reasons to Avoid:
Feels pretty shaky with bigger lenses

Does not support 4K videos

No silent shutter mode
Sony A6000: Final Thoughts
If you don't mind owning an old model, and you're more concerned of practicality, then this one is definitely the one to go for. It doesn't come short in features, plus you'll get pocket change for great accessories.
All in all, it's an excellent beginner camera for teenage photographers, photo travellers, landscape and portrait artists. Pro tip: Turn the Airplane mode on, so you don't drain your battery!

---
Cameras for Beginners: Things To Consider
---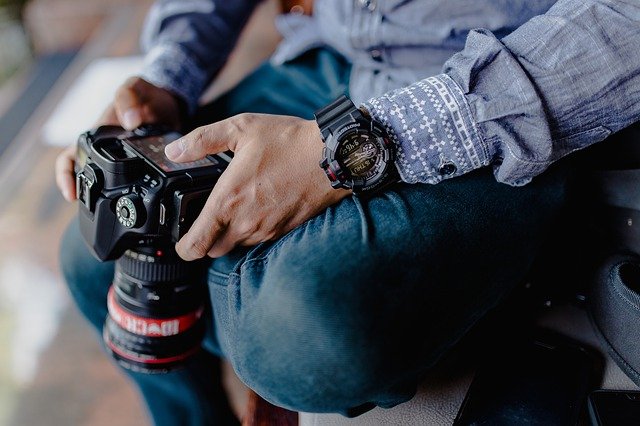 You see:
It's normal to feel excited at the thought of buying your first ever camera (mirrorless or DSLR). What's not good is not knowing which one to pick among several options. There's a danger in buying one that you can't use for the intended purpose you wished for, and that's the last thing you'll want, to be honest.
Here are some things you should consider before spending cash on your first photography gear:
Not all cameras are created the equal. There are some that offers high resolution, while others focus on imaging sensors. And there are ones that are built for specific purposes like vlogging, sports photography, landscape, street and portraiture.
What I'm saying is that, as early as now, it would be good if you know what specific genre you want to cover. That way, you can start looking for a gear that would meet the specific demands of that particular genre.
But I understand that as a beginner, you might not have a solid genre you want to focus on and you only want to practice shooting whatever subject that comes to mind, and that's totally fine too. There are quite a handful of all-around options you can find today.
The most important thing is that you don't forget what your priorities are when you buy a camera. This will greatly affect your overall experience as an aspiring photographer.
Many enthusiasts often forget checking out the actual camera size and it's ergonomics. While these two factors seem trivial to non-photographers, this will greatly affect how much you will enjoy doing your craft. Plus, you also need to consider for what particular use it will serve (or on which activities you will often use it) when choosing the right size for your gear.
Honestly, it wouldn't make any sense for a travel or street photographer to carry super bulky and heavy DSLRs, would it? That's why I'm telling you these factors should be part of the deciding factors when buying your first gear.
As for the ergonomics part, this is equally important as well. You will be holding the gear in your hands every time you go out and do a shoot. So it will be totally bothersome if your gear doesn't feel "right" in your hands. You might end up getting awkward angles or shaky shots when that happens.
If you happen to shop online for your first ever photography gear, then I suggest you check out the comments and reviews about it's ergonomics since there's no way for you to feel the item out physically. And in doing so, keep in mind that not everyone has the same preference. In the end, it will be your preference that should prevail.
This one matters A LOT, honestly. If you are a beginner trying to figure out your luck in the photography industry, then it's best to start with a mirrorless or DSLR that doesn't break the bank. You get what I mean, right?
It's hard to invest in high-end and top tier gears when you have none to little experience in actual shooting. (And honestly, you shouldn't do that, IMHO.) But if you want to buy those and you have the resources and would love a little bit of a challenge, then by all means go ahead.
But the thing with high-end photography gears is that these items cater mostly to professionals' needs. And it has more complicated controls and settings that might just mess up your entire start-up journey, and you certainly don't want that to happen, I bet.
So as a beginner, you can start with simple amateur cameras like the ones listed here. They are way cheaper than pro-level gadgets, but it doesn't mean it's not gonna help you become the best photographer you can be. It has a lot of features that are beginner-friendly, and they are definitely easier to use. Once you get the hang of it and and understand how your DSLR really works, that's when you'll know you are close to stepping up your game.
When we talk about photography, many of us automatically think about big, bulky DSLRs. While that's partly true, you have to know that there are several types of gear you can actually use, not just DSLR.
To give you a quick overview, here are three of the most common types of cameras used for serious photography:
DSLR
This is an acronym for Digital Single Lens Reflex. It is the most common type of camera professional photographers use. Each one of them has at least DSLR in their collection of gears.
This device has several mirrors inside that helps reflect light and lets you see what your lens is currently capturing through the optical viewfinder. See that tiny eyehole on top of the LCD? That is the viewfinder.
Another distinctive characteristic of a DSLR is that it allows you to change lenses that fits your current genre. There are numerous lenses compatible for a single DSLR body (depending on what model you choose, by the way). You can use prime, zoom, telephoto, wide angle or any other type of lens that is compatible with your camera body. That's why you can do a lot of things with just one DSLR.
Mirrorless
This is another popular "pro" choice. Mirrorless are just like DSLRs without the actual mirror inside its body. Since mirrors are glass components, they add up to the total weight of the device, making them bulkier and heavier. Without those, mirrorless ones are naturally more lightweight and slimmer.
Though it doesn't have an optical viewfinder (OVF), most of them come with Electronic viewfinders which work the same way. It still lets you see what your lens is seeing so you can get a more accurate shot of your subject.
Aside from that, mirrorless also uses interchangeable lenses. You can always change it to the lens type that will better fit the genre.
Point and shoot
This is another type that we all know of. It is a really compact photography gear and it is significantly smaller in size compared to those two I previously mentioned above. And it's the easiest one to operate that even kids as young as 10 years old can use it without a problem.
Another distinctive feature of P&S is that it doesn't allow you to change it's lens. It has a fixed one installed so there's no room for upgrade. Though it has a decent zoom range, you really can't compare it to that of a DSLR or a mirrorless, honestly.
Lens availability (for DSLRs and Mirrorless)
One thing you also need to really consider thoroughly is this: does your camera allow you to change lenses? And if it does, are there a lot of compatible lenses to choose from?
It's normal not to really give this feature much thought at the start since you will mostly rely on the kit lens that comes with an entry-level DSLR. However, as you go along your photography journey, you will need more than just the standard 18-55mm lens. Once you truly discover what genre interests you most, you will likely need a specific lens for that. Say for instance you come to love nature and wildlife photography, then you will need  telephoto lens or  zoom lens for that.
And having a camera body that allows you to do just that will save you half the price. Instead of buying an entirely new gear, you only need to go for the right lenses and still use the old camera body that you have (as long as they're compatible).
Many people have this common misconception that megapixels are everything. Although having higher resolution is better, it's not the only thing that makes up a great image.
Truth is:
It's the size of your image sensor that matters more. The bigger the sensor, the better image quality you will have, even it has the same MP as that of a digital camera. The more light a sensor can let in, the clearer and cleaner your photos with be.
If you compare any regular digital and a DSLR with the same 20MP specs, the first thought that will probably come to your mind is this: why would I choose the more expensive and bulkier option when I can have a handy one with the same number of pixels?
As you may have already guessed by now, compact and micro four-thirds cameras have smaller sensors, hence why it's small by design. So there's a trade off between image quality and convenience.
This feature, though not required, can be very essential in transferring files from your camera to a computer or phone (where you actually do the editing works). As much as possible, find one that has Bluetooth, GPS, and Wi-Fi connectivity. If you can't find one that has all three of these, at least one would still be great. Although I gotta say, most modern options often do offer those.
---
Best Amateur Cameras for Photography: Thoughts?
---
Now…
I'd like to hear from YOU:
What is a great starter mirrorless or DSLR that you recommend?

Any other best cameras for amateur photographers in 2023?