---
Welcome to my 2022 review of Canon M50 camera!
Look, it is hard to make a decision when it comes to deciding on the right camera for you. There are so many different types of gears out there, and they all have their benefits and drawbacks.
Canon M50 has been one of the most popular gears for vlogging/YouTube purposes lately, with many people still debating whether or not it's worth it.
Here's what I think you would love about this mirrorless baby:
easy to carry around

built-in wireless connectivity

excellent photo and video quality for its price point

good overall ergonomics
…and so much more!
Certainly, if you are just starting out your photography journey and want to invest in a not-so-pricey-yet-functional camera, then you should consider this baby.
---
Canon EOS M50: Video Review
---

---
Featured Specs:
Before anything else, I'd like to share with you some of the most prominent Canon M50 specs you should look out for. Check this out:
Type: SLR-like mirrorless
Resolution: 24 MP (6000 x 4000)
ISO: Auto, 100-25600 (expands to 51200)
LCD screen: Fully articulated
Sensor size: APS-C (22.3 x 14.9 mm)
Touchscreen: Yes
Weather-sealed: No
Weight: 390 

g
---
✓

Reasons to Buy:
4K UHD video recording

The Dual Pixel AF system

WiFi, Bluetooth, and NFC built-in features

Fully articulated screen

Beginner-friendly interface

Excellent overall image quality

High-resolution photos

Impressive burst rates

Very compact and lightweight (perfect for vlogging!)

External microphone port
---
✕

Reasons to Avoid:
short battery life (235 shots per charge)

USB charging not supported

Limited lens availability

lagging AF for 4k recording
---
💰 Where to buy online?
---
Canon EOS M50 Mirrorless: Features
---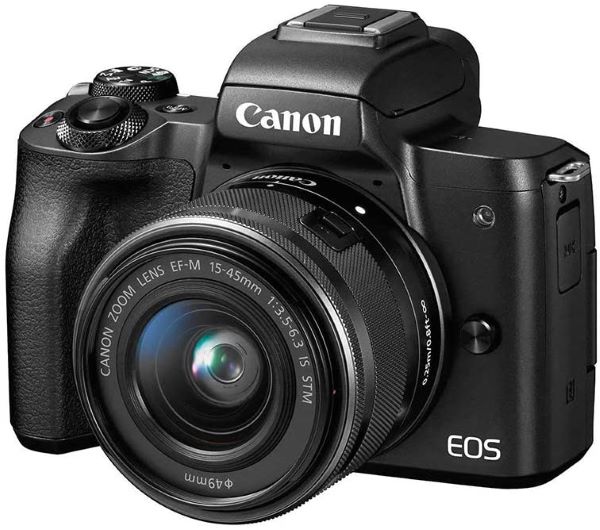 The thing is:
Buying a camera can sometimes be confusing, especially with the existence of too many models you can choose from. Sure, you might want to base it on the price tag, but that's not really all there is to consider if you ask me.
Let me help you narrow down your options by talking in detail about the various specs and features of this popular gear. 
Shall we start?
Many of you are probably wondering: does Canon M50 shoot 4k? Well, if you are a fan of this UHD recording mode, then you're in total luck.
This is one of the reasons why it became so popular, mind you. However, there's a catch to this. You won't be able to rely on the dual pixel AF system when using this shooting mode.
Considering this is an entry-level device, you can somehow expect this drawback. But overall, at 1080p it still produces great motion videos for vlogging, so you are not totally at a loss!
3″ Fully Articulated Screen
Filming vlogs would totally be hard if your cam doesn't have an articulating screen, much so if you do the job alone. At times when you need to record yourself, this feature comes in super handy.
You don't need to worry about going out of the frame because you can always adjust your position while looking at the screen and recording at the same time!
In-body WiFi, Bluetooth, and NFC
In this day and age when real-time uploading has become a trend, it's really nice to have built-in wireless connectivity in your main shooting device.
Because of this, you don't need to wait endlessly for files to be transferred between different devices. You can easily share them via WiFi and Bluetooth for a smoother and seamless transfer.
This helps save you time. A lot of it, actually.
We all have this common misconception that the bigger the MP count is, the better photos will be. But later on, you will learn that it's not always about megapixels.
But of course, it still pays to have a camera that has a very decent resolution, just like this. Most entry-level devices only offer 16-20MP photos, but this brand always manages to top that up a notch. At 24MP, you will enjoy high-quality images without worrying about its crop factor.
I'll be honest with you. This beauty doesn't have the best battery life. On average, it can only last after 235 shots per charge.
But considering its price point, this is even better than most models. One thing I can advise if you plan on doing a long shooting session, just bring your spares so it doesn't get interrupted.
Reliable AF System (up to 1080p)
Canon's Dual Pixel technology has greatly affected how photographers shoot stills and motion pictures. Once you have a trustworthy autofocus system, you're halfway done.
Because of this, subject tracking will be easier, allowing you to focus on composition and other settings. This is one of the reasons why it was known as a vlogging cam.
Fully Functional Touchscreen
The best thing about having this feature is that you can easily drag your focus points to anywhere on the screen with your fingers. This makes it easier to control the focusing mechanism, which is perfect for beginners.
Electronic viewfinders greatly help you compose your shots to make them look magazine-worthy. Though not really as accurate as an OVF, it still does its job of letting you see what your lenses are capturing.
---
Is Canon M50 Worth It?
---
Canon M50 release date goes a long way back in late March 2018. Given the fast-paced production of newer camera models, you can't help but worry whether it is a good idea to invest in this or not.
But really, is Canon M50 still worth it in 2022?
Personally, I think it is still worth spending your money on this baby. It is still considered one of the best entry-level cameras today that comes with both excellent photo and video capabilities.
So if you are asking: is M50 a good camera? Then the answer would be a big YES! Price-point and feature-wise, it's a very decent choice.
==> Grab yours here.
---
The M50 Lenses: 5 Options for You
---
The main advantage of getting this model over high-end compacts is that you have the option to change lenses. For serious photographers, this is really a very helpful inclusion.
When it comes to this topic, most of you probably have this question in mind: can any Canon lens fit on EOS M50 camera?
It's understandable why you might ask that, I myself had the same question before. But to give you a direct answer: No. 
Since this is a mirrorless device, it normally uses EF-M lenses. However, there are available adapters that will let you use EF and EF-S on this beauty.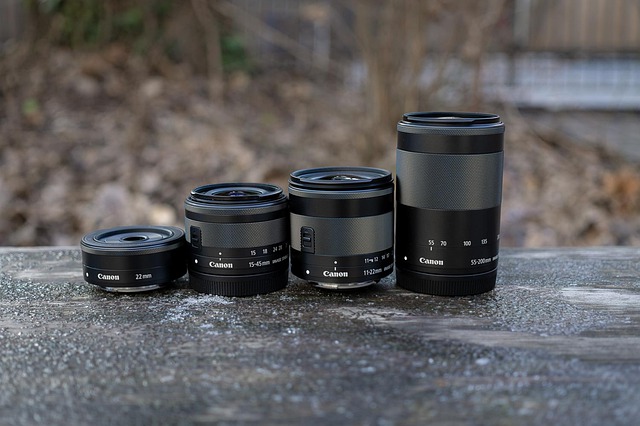 Let's take a look at the most compatible and best lenses for M50 this 2022:
This is the most favorite and the go-to lens for vloggers who use this model. Though it is a prime lens, it performs really well for street and travel photography, making it a crowd favorite.
It's extremely handy with a pancake design, which makes it really easy to carry around. Plus, it allows you to stay as discreet as you want to.
It doesn't stand out too much in public, you can go on taking photos of your subject without much problem. This helps you capture the most natural moments. 
EF-M 15-45mm f/3.5-6.3 IS STM
If you are looking for an all-arounder, then this is your best bet. It is very versatile, letting you explore so many areas of photography without the need to change lenses. 
What makes this unique is that it doesn't have a motorized zoom mechanism. Instead, it uses a manual zoom ring. This helps so much in getting the best stills. 
But for videography, this might not be what you are looking for.
A wide-angle lens perfect for capturing decisive moments! 
If you haven't noticed yet, this is the only lens in this list that doesn't come from the same brand. But, it deserves a sweet spot here, honestly. 
Despite its size, it has a really quiet operating sound. This means less distraction when shooting, especially if you plan on using it to take photos of animals in the wild or sensitive newborns. 
EF-M 18-150mm f/3.5-6.3 IS STM
This is another great lens option you can consider. It gives you both zoom and wide-angle capabilities in one gear.
Many artists use this for both portraiture and landscape. Don't you just love the versatility?
On top of that, it also has a really quiet focusing mechanism, which makes it a favorite among vloggers.
Macro photography is always fun if you have the right lenses to do the job!
The best thing about this is that it has a built-in LED light to shine light into your close-up shots. This compensates for its short focal length.
On top of this, it also has an image stabilizer. This makes it a really great pick for vlogging.
---
EOS M50 and Night Photography
---
Shooting in broad daylight outdoors will give you awesome images using this model. But what happens when you use it in lowlight venues? Is Canon M50 good for night photography? 
Without a doubt:
This camera can perform well even under low light conditions. However, it needs to be paired with the right lenses. 
For this genre, you will need lenses that let you shoot photos at a slow shutter speed. This means it will be great to couple it with a lens that has IS. And of course, never forget your tripod as well!
---
Frequently Asked Questions
---
Q: Is canon m50 good for photography?
Generally speaking, this baby is good for all things photography, even for videography as well. It is an all-around gear that you can use for various genres. This alone makes it a really worthy option, in my own opinion.
Q: Is M5o better than iPhone?
It actually depends on which feature you are trying to compare between these two devices. If you are talking about mobility and seamless file sharing, iPhone still wins my vote.
But if you are talking about image quality, overall resolution, manual controls, and all those technical stuff, certainly this mirrorless still overpowers any mobile device. 
Q: Is Canon M50 good for beginners?
Without a doubt, it is. EOS M50 is officially classified as entry-level gear. Plus its UI is really simple so newbies can easily adapt to it. 
Q: Do you need an adapter for M50?
This depends on which lens type you want to use. If you are going for EF-M lenses, then there is no need for this. 
But if you want to use EF and EF-S, then you will need one.

---
Canon M50 Review 2022: Final Thoughts
---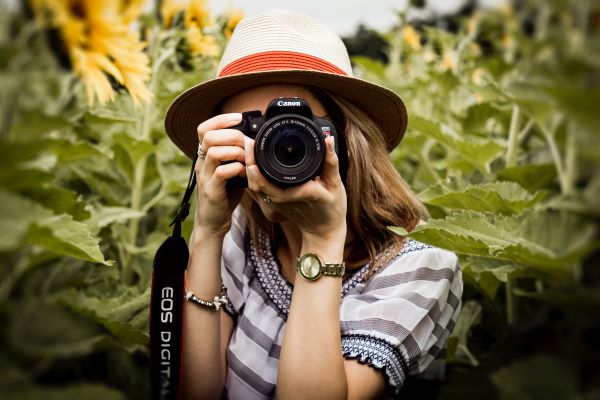 Photography is mainly made up of two things: skills and equipment. Your skill plays at least 75% of your success, while the remaining relies on the device you are using.
With skills out of question, it really pays to invest in a trustworthy camera as you begin your career in this industry. EOS M50 is one of the best choices you got so far, even in 2022.
So if you are looking for a great camera to invest in, you might want to give this baby due consideration. (*wink*)
Now, we want to know your thoughts:
Do you think Canon M50 is still worth buying in 2022?

Which lenses did you find fitting for this gear?

Do you know of other models with similar features like this one?
Let us know in the comments section below!