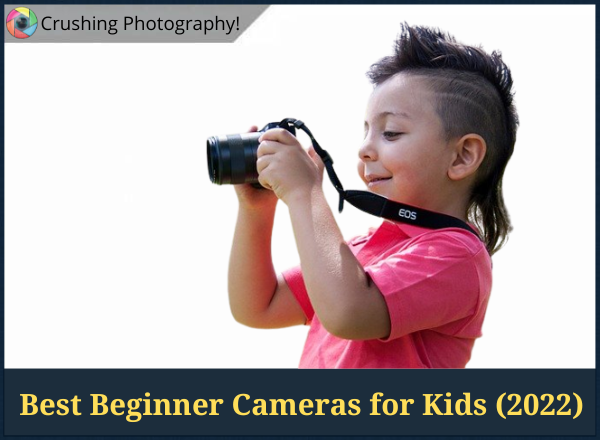 Look…
Parents who love photography often end up with kids loving the same craft, too. So you have to be prepared for your child to follow your footsteps.
And when you notice a hint of inclination in them, this is the best time to encourage them to learn the craft themselves. No age is too young for photography!
So, what is the best beginner camera for a child this year? (2022 update)
In this post, I'll share with you some of the most recommended and useful starter cameras fit for toddlers and tweens. These are not so expensive items that your little ones will definitely love.
To speed your research up:
Without further ado, let's get into the juicy details!
---
The Best Overall Camera for Kids in 2022
---
VTech KidiZoom Duo 5.0
Type: Shockproof camera for kids
Weight: 391 grams
Batteries: 4 AA
Waterproof: No
Price: Under $80
Recommended for: 3-7 years old
---
Don't you just love it when your little ones love the same craft as you do?
It would be easier for you to guide and teach them things about it since you know the art very well. Plus, it's also a good and productive way to bond with your kids, and even the entire family, too.
So if your toddlers are into photography, the best thing you can do right now is to educate them how to do it properly using a device that fits their age group.
Of course, you can always let them use a "real camera" but that would only make it harder for them with all the complicated settings and buttons.
VTech KidiZoom Duo 5.0 is one of the hottest kiddie cams you can check out today. It comes with many features that your child will totally love. And to mention a few:
Though this might sound inferior to professional cameras or even cheap compacts, it still works well for kids. They can take decent photos with it. And honestly, this is one of the few kiddie cams that actually has this much resolution.
This kid's camera also come with dual cam system. It lets your toddles take awesome pictures both through the front and rear cameras. Since there's a 2.4″ TFT screen at the back, taking selfies has never been easier.
This is another feature that makes KidiZoom Duo amazing. Not a lot of kiddie cams can have this much storage space, which is a very common issue. With this amount of local storage space, your child can take snaps and save up to 1,500 photos or 9 minutes worth of videos.
KidiZoom Duo 5.0 also comes with several photo effects and filters. When you turn the camera lens, it changes into different cool filters that your child will truly enjoy. Plus, there's also a "shake" feature that automatically puts wacky photo effect to the captured images to make it look more fun and exciting.
Built-in Games and MP3 Player
Aside from being a fully functional camera, this device also allows your toddlers to enjoy a variety of games to pass the time. And it can also turn into a portable MP3 player so they can listen to music anytime anywhere.
✓

Pros:
Super affordable

With parental control features

Comes with 256MB Memory

Comes with free headphones

Dual camera system
✕

Cons:
Image quality with filters not so good
Final Thoughts:
VTech KidiZoom Duo 5.0 is a really cool item you can consider giving your little kids (prolly 3 – 8 years old). It has a lot of enjoyable features and it will help develop your child's creativity and love for photography, too.

---
Best Instant Cameras for Kids and Tweens
---
Fujifilm Instax Mini 9
Type: Instant Camera
Weight: 363 grams
Batteries: 2 AA
Waterproof: No
Price: Under $70
Recommended for: 6-15 years old (but can also be for all age group)
---
Now, let's talk about the perfect cameras for older kids and teenagers. Here are some of the trendiest items you can give your growing child.
You see:
Film cameras have long been obsolete, but some of us just miss it so much.
I don't know about you, but for me it makes photos look effortlessly dramatic and more meaningful than digital ones. The extra grains on the subject, the natural vignette on the corners, and everything else that seems vintage.
Surprisingly, a lot of teenagers (and even younger ones) seem to love the idea of taking photos with effects that makes them look like it came out directly from an old film camera.
Plus, there's so much hype surrounding polariod type photography gears that prints instant photos like Instax Mini 9.
Turns out…
Fujifilm Instax Mini 9 takes you back to the time when taking a photo is as easy as 1-2-3. With just one click of the button, you can document a precious moment without breaking a sweat. Plus, it prints the photo instantly just like old polariods do.
Here are other features that your child might love about Instax Mini 9:
Though it lacks a selfie screen, there's a tiny mirror located just right beside the lens. They can use this to check their position and framing so no film gets wasted in taking the shot.
Lens Adapter for Closer Shots
Your teenagers might want to explore and be a little more creative than usual, so this close-up lens accessory is a really good way to help them out. This is for close-ranged (macro) shots which is good on flowers, insects and tiny objects that may interest your aspiring photographer.
There are brightness presets they can choose from when using the Instax Mini 9. Your tweens can go from indoors to cloudy to sunny and slightly cloudy and to sunny and bright (F32).
The camera automatically detects the actual light setting and shows you the recommended brightness. They just need to turn up the camera dial and put it in the recommended setting.
However, just like other film cameras, this one doesn't do much if it's too dark or too bright. Though it comes with a flash (which is always on regardless of lighting), the resulting images may be a little distorted if there's no enough light.
This one gives your teenagers the option to turn their captures into a lighter and softer resulting image. This feature adds extra drama to your child's photos by turning it into a faded image with vintage feels.
✓

Pros:
Retro vibes

Prints photos instantly

Easy to use

Inexpensive camera

Comes in cute colors

Durable
✕

Cons:
Pretty expensive, especially buying paper
Final Thoughts:
Fuji Mini9 is an excellent choice for your teenagers especially if they are curious as to how film cameras work. This will help them better understand instant photo printing, too.
Plus, it will teach them not to just recklessly take shots of anything since the film is way too expensive!

---
Kodak Printomatic
Type: Instant print camera
Weight: 224 grams
Batteries: rechargeable li-ion (built-in)
Waterproof: No
Price: Under $70
Recommended for: 5 – 18 years old (or older)
---
Here's another instant camera that not only kids love, but adults too.
Unlike Instax, this one doesn't give you retro vibes images (except for the black and white feature). Instead, it prints out full colored images in a matter of seconds. It also has a chic design which makes it look like a unique point and shoot camera (which it actually is, by the way).
Here are some of the most important features of Kodak Printomatic that you might want to check out:
Compared to other "kiddie cams" here, this one probably has the highest resolution. It may be inferior compared to 42MP pro DSLRs, but it definitely lets your child take clear and vivid photos.
The good thing about these "instant" cameras is that it doesn't take long for you to print the photos. This makes it a must have item for travel and family outings. And what makes it even better is that you can continuously shoot while it's printing so there's no moment left uncaptured.
Water-resistant photos with adhesive back
This is a unique feature to Printomatic.
They use Kodak Zink paper which is exclusive from the brand. This kind of photo paper is water-resistant so it naturally lasts longer than ordinary glossed/matted papers. It also has a sticker-like characteristic so you can easily place it in your memos, notepads, diary, or even scrapbooks.
✓

Pros:
Fast and easy printing

Colorful and vivid photos

10MP sensor

Unique photo paper

Comes in various colors
✕

Cons:
No memory card included in the package

Lacks selfie mirror
Final Thoughts:
If your tweens are looking for a handy and easy to use camera, then I honestly believe that Kodak Printomatic might be the right product for them. Plus, it's also super affordable so it doesn't break the bank.

---
Creative Cameras of 2022 (For Toddlers & Tweens)
---
Lomography Konstruktor F
Type: DIY Camera
Weight: 580 grams
Batteries: none
Waterproof: No
Price: Under $60
Recommended for: 6 – 15 years old
---
Enough of the instant cameras, let's now have a look at these equally amazing yet unique devices that your kids will most likely want.
Konstruktor F is the most unique camera in this list. And, it's a good option for kids and tweens who loves to tinker and build stuff. Instead of getting a ready to use device, they need to assemble and create their own camera, adding fun to the entire experience.
Here's what you can expect from this DIY camera:
As what I've mentioned earlier, this product doesn't come as a ready-to-use gear. Instead, it comes in parts and your kids need to assemble it by following the instructions included in the package. Normally, it would take them 1 to 2 hours of building this thing.
Mostly made out of premium plastic
Lomography made sure this camera is easy to build, so they had the entire shell and some parts made of robust plastic materials. Because of this, you need to remind your tweens to be extra careful in assembling the parts so that nothing breaks in the process.
This is where it gets interesting. This product uses the traditional film roll used in old cameras. You need to teach your child to manually load the film correctly for the device to function properly. Also, this will give them a taste of the past, which could actually be fun for them.
The only downside of it all is that they need to wait a little longer for the pictures to develop. Normally, you need to take it to a local photo shop to have it processed. But if you know how to develop photos from film strips, then you can share this knowledge to your child and have fun doing it together.
If your kids want to use this camera with a flash, they certainly can do it. But, the flash itself isn't included in the package. You have to buy it separately.
✓

Pros:
With reflex viewfinder

Fun to build

Easy to use

Helps your child understand the parts of the camera better
✕

Cons:
Depth of field isn't very good (not that it matters to kids)

Limited effects and settings
Final Thoughts:
Lomography Konstruktor F is definitely a fun item you can enjoy building with your kids.
It will give you the opportunity to teach them the different parts of the camera while you guide them as they assemble each one.

---
Lego Camera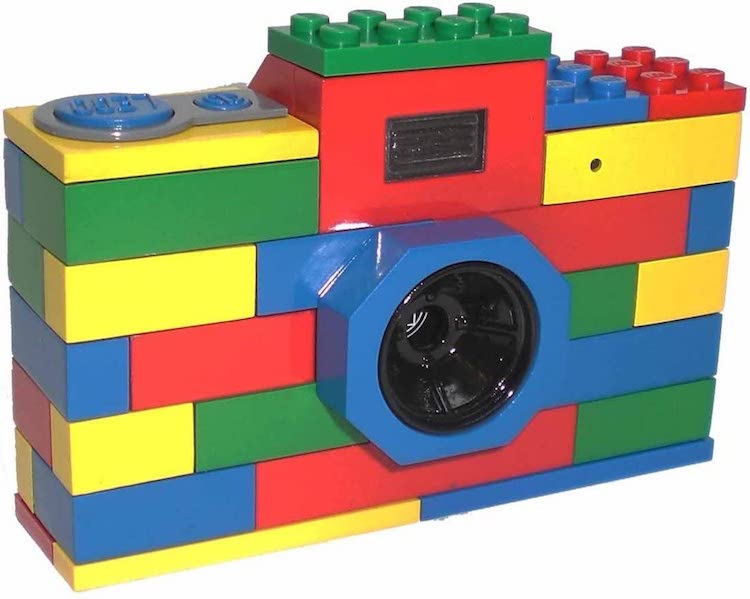 Type: Compact
Weight: 68 grams
Batteries: not specified (included in package)
Waterproof: No
Price: Under $200
Recommended for: 7 – 8 years old
---
LEGO blocks is an all time favorite of kids, no matter the gender. And having it as a camera design is pretty appealing. It may look like a normal kiddie toy at first glance, but it is actually a real device that captures photos.
Here are some features that your kids might love about Lego camera:
Your kids will totally love taking pictures with this camera. It includes a rear LCD that allows them to view what the lens is currently seeing. It will show them if they are holding the device correctly or not, and if their subject fits well in the frame.
For us, this is not a good camera resolution at all. But for kids, it will do (as if they're even bothered with it). Since they are still in the learning and developmental stage, they are not too focused on the quality of the photo but whether they captured their subjects or not. So this is good enough for most kids.
One of the things that make this item unique is that it does not require using disposable batteries. I've heard a lot of mixed comments about this. But personally, I prefer rechargeable to disposable ones. Imagine the savings you can get by not always buying batteries whenever your child wants to use this gadget.
✓

Pros:
colorful design

easy to use
✕

Cons:
very limited storage space

overly strong flash
Final Thoughts:
Though this product may not be the best camera out there, it can still help your child develop his artistic and creative side. It's a good gift because it's not too expensive and is fully functional.

---
Best Child-Friendly Waterproof Cameras
---
The next items are not only good for kids, but for adults as well. In fact, these products are mostly used by the older age group. By the way, they are also great cameras for teens interested in photography.
Let's take a look at each one.
Nikon Coolpix W150
Type: Point and shoot
Weight: 178 grams
Batteries: 1 Li-ion (included)
Waterproof: Yes, up to 33 ft
Price: Under $150
Recommended for: 10 – 16 years old
---
If your kids are into water activities and adventures, then this will probably make them ecstatic. Having an underwater camera is a good way to let them enjoy swimming more, with family and even their friends.
Nikon has long been producing several awesome cameras and Coolpix W150 is one example of that. It's loaded with lots of important and fun features that will help your child explore limitless creativity.
Here are the key features of this products:
Waterproof even without casing
Underwater activities are more exciting if you can capture the moment. With Nikon Coolpix W150, this is totally possible. It can go as deep as 33 feet underwater without the need for a waterproofing case. It's durable enough to withstand pressure from that depth.
Aside from that, there's also a dedicated setting for waterproof shooting. Just choose this every time you plan to submerge it down deep waters.
Your kids won't need any editing software to make their photos look as extra as it can be. This camera has a lot of effects that they can use before or after shooting an image.
It's fun to take photos, but nothing beats capturing the most epic moments in video. Coolpix allows you to do this with 1080p resolution, the best that you can get from an underwater device.
✓

Pros:
Lightweight

Very portable

Easy to use

Different shooting modes

Built-in special effects

Can be used underwater
✕

Cons:
not good for low light

slow burst rate
Final Thoughts:
Nikon Coolpix W150 is a nice photography gear you can enjoy with the entire family. It has a sleek and chic design that matches well with any outfit. It's also super lightweight making it a handy cam for travels and long adventures.

---
Olympus Tough TG-6
Type: Waterproof compact
Weight: 255 grams
Batteries: Li-ion (included)
Waterproof: Yes, up to 15m
Price: Under $350
Recommended for: 10 – 15 years old
---
Look…
There's a huge difference between loving the craft and being utterly serious about it. If you feel like your child is the latter, then it's probably the best time to give them some real camera.
Since they are still in the early stages of their photography journey, it's good to find a gear that's easy to use but still got almost the same quality with entry level DSLRs. Olympus Tough TG 6 is one option you can consider right now.
Let's take a look at the various features that it offers:
For serious shooters, this is quite a great find considering it's a compact camera. It let's you take high resolution photos with minimal noise. It also performs decently under low lighting conditions.
Since you already know that this one's a waterproof camera, let's focus on other things that make it a robust gadget.
The manufacturer states that this product is shock proof and they are not lying about that. It will still function even after being dropped from a maximum elevation of 7ft. Now if that isn't the definition of tough, I don't know what else is.
This is also dustproof and freezeproof, which means it will work well both on land and in cold waters.
This is another unique feature for Tough TG6. It automatically saves the photos before and after you release the camera shutter. As a result, all the important scenes are included in the burst shot.
✓

Pros:
Robust build

20 fps burst rate

Supports 4K videos
✕

Cons:
Photo resolution can use some improvement
Final Thoughts:
If you are looking for a sturdy and serious camera for your tweens, then this is one of your best options right now. And it's also super handy so they can take it anywhere they go.

---
Point-and-Shoot Camera for Beginners
---
Sony Cyber-Shot W800
Type: Point and shoot
Weight: 125 grams
Batteries: 1 lithium metal
Waterproof: No
Price: Under $100
Recommended for: 10 – 15 years old
---
Let's admit it…
When it comes to digital cameras, Sony is one of the most trusted brands out there and there's no questioning that. They have great products which are durable, high quality and packed with amazing set of features. And Cybershot W800 is no exception.
Here are some of its features:
The thing about photo resolution is that it affects overall image quality, though not as much as the size of a sensor does. If you only look at the pictures on the camera's LCD, you wouldn't really appreciate what a 20.1MP resolution does to it. But, the story changes the moment you put the pictures in print. If you plan on printing it on big canvasses, then having this much resolution is necessary.
Another good thing about this product is that it has excellent zooming capabilities. So even if your kids want to take a photo of something far away, it's totally possible.
This feature is very helpful especially for beginners. This helps reduce the shakes and unnecessary movements that might cause a photo to be distorted. With SteadyShot, your child will be able to take clearer pictures instantly.
✓

Pros:
High resolution images

Wide angle lens

Supports Panorama mode

SteadyShot
✕

Cons:
Lacks wireless connectivity

Not touchscreen

Max video format supported is at 720p only
Final Thoughts:
Despite not having wireless connectivity feature, it is still a good option. It's stylish and very handy as well. While this is not something that I would recommend to adults who serious consider doing photography, this point-and-shooter is a great choice for a child and family use (including vacations).

---
The Coolest 2-in-1 Camera for Toddlers
---
Playskool Showcam
Type: Kiddie camera
Weight: 1,360 grams
Batteries: 4 AA
Waterproof: No
Price: Under $120
Recommended for: 3 – 10 years old
---
If unique is what you're looking for, then Playskool Showcam is a good choice right now. Plus, it does not only allow your kids to take photos, but it also lets them showcase these captures through its built in projector. Now, isn't that just wonderful?
To give you more details about this product, here are some awesome features that you and your kids will love:
Most kids fancy having a professional DSLR, but they're honestly too young for the real thing. But with Playskool Showcam, they can have what they want yet still fits right for their age. On the outside, it looks like a DSLR but the features are child-friendly.
This device also comes with over 50 different stickers for easier photo customization. Your kids will love putting out different silly stamps on the photos without transferring it to the computer.
I've already mentioned that this camera can turn into a projector, right? So when your kids want to showcase their pictures, they can choose from 5 different slideshow themes to make the presentation more fun.
✓

Pros:
2-in-1 camera and projector

Easy to use

Child friendly

Comes with editing tools
✕

Cons:
Final Thoughts:
Honestly, I think many kids will love this gift. Out of all the items I mentioned here, this one looks closest to pro cams and that could mean so much for them. Plus I liked how it can turn into a projector anytime you want to. It will be easier to show what your kids have taken with this feature.

---
What Is the Best Camera for a Child? (2022)
---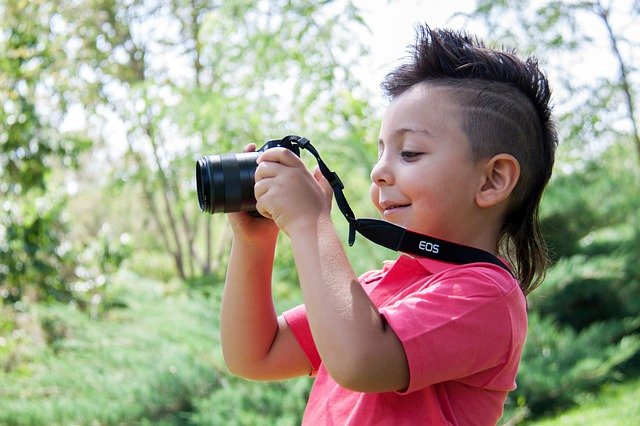 ---
I've listed several wonderful products that make for great photography gifts for kids. Whether your child is a toddler, a tween or even a teen, there are good options out there.
Additional resources you might want to check out:
Now, I'd like to hear from you! What are thoughts on these cameras for kids? Which one would you get for your child?